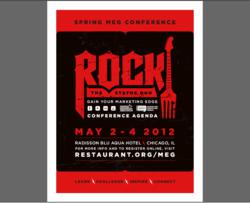 We know how to help restaurant marketers rock the status quo and implement digital programs that engage their guests.
Austin, TX (PRWEB) May 02, 2012
Austin-based marketing agency nFusion is proud to sponsor the Marketing Executive Group's (MEG) spring conference, "Rock the Status Quo," in Chicago May 2 – 4. MEG, a study group of the National Restaurant Association, hosts the conference where industry leaders gather to learn from, challenge, inspire and connect with each other as they explore the newest big ideas in the industry. Over the three-day conference attendees will gather to gain insights on new trends across consumer behavior, branding, social media and more.
nFusion's presence at MEG reinforces how the Austin agency is helping to reinvigorate restaurant industry brands as they seek to keep up with the myriad demands of an ever-changing market. From digital presence to accelerating sales, nFusion has championed marketing change leaders in the restaurant industry and helped them to transform their visions into results-producing reality.
"Coming from Austin, 'The Live Music Capital of the World,' we know a thing or two about how to rock," says nFusion CEO John Ellett. "More than that, we know how to help restaurant marketers rock the status quo and implement digital programs that engage their guests."
nFusion has helped its restaurant clients achieve success across all manner of projects, including: a new website and mobile activation for CiCi's Pizza; an online ordering system for Chili's Grill & Bar; a mobile experience to match a website redesign for Maggiano's Little Italy; and a Web strategy that encompassed a website redesign and social media integration for BJ's Restaurants. For more on nFusion's work with its restaurant clients please visit: Restaurant Marketing for Big Brands with Local Stores.
"We're proud to be a Silver sponsor at the spring conference," continues Ellett, "And we look forward to three days of good ideas, good interaction and good food."
About nFusion
nFusion is an integrated, digital-centric marketing agency that provides the combined services of a marketing consultancy, advertising agency and interactive firm to companies serving customers in the B2C and B2B sectors that seek a trusted partner with a demonstrated history of helping clients to understand, embrace and thrive in a market environment of constant and accelerating change. The award-winning, Austin-based agency knows how to navigate today's chaotic, rapidly changing environment with marketing as dynamic as the marketplace itself and serves as a trusted partner and advisor to a wide array of organizations across multiple industries, including AMD, Anheuser-Busch InBev, BJ's Restaurant, CiCi's Pizza, Comerica Bank, , Samsung, Sonus Networks and Zimmer Spine. nFusion helps clients cut through the clutter with award-winning, savvy campaigns that balance traditional media with cutting-edge digital capabilities. nFusion is headquartered in Austin, Texas, and can be found online at http://www.nfusion.com. Find us on Facebook at http://www.facebook.com/nfusion; tweet us at http://www.twitter.com/nfusion.