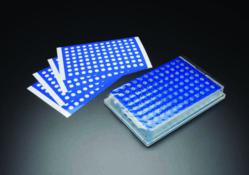 Vineland, NJ (PRWEB) May 02, 2012
Busy researchers will welcome the new 96-Well PTFE Sealing Film from J.G. Finneran Associates. The adhesive film features a patented design to seal samples in microplates during high throughput bioanalytical studies without exposing samples to the film's sealing adhesive. Samples are protected against cross contamination or evaporation.
The new Finneran 96-Well Pattern PTFE Sealing Film is coated with a solvent-free adhesive that is precisely applied in a pattern to seal around each of the 96 wells, leaving the area over the sample well free of adhesive. The sealing design prevents adhesive from fouling the pipette tip or sampling probe, ultimately minimizing the amount of adhesive that comes in contact with the sample. The adhesive is formulated to adhere to polypropylene, polystyrene and polycarbonate microplates. The inert PTFE film material is compatible with aqueous solutions and organic solvents and resistant to most laboratory chemicals, including DMSO, and has a functional temperature range of -80ºC to +120ºC. Available in 2 mil and 5 mil thickness, the film is easily pierced by single or multichannel pipettors and robotic probes.
J.G. Finneran Associates designs, engineers and manufactures innovative glass and plastic products in facilities that conform with ISO 9001:2008 quality standards. Many of the sample vials and containment systems were developed by working with customers to find ways to maximize their productivity and efficiency. Over the years, many of the innovative designs have been awarded patents by the United States Patent and Trademark Office. The new 96-Well Pattern PTFE Sealing Films by J.G. Finneran Associates are available internationally from a network of laboratory dealers. For more information on the products and how to buy them, visit http://www.jgfinneran.com or contact J.G. Finneran Associates toll-free at 1 800.552.3696 or 1 856.696.3605.
About J.G. Finneran
J.G. Finneran Associates is a manufacturer and supplier of unique and innovative products for the global chromatography, biotechnology, and environmental research communities. Our products deliver reliable performance while expediting and simplifying the analysis process. J.G. Finneran Associates is the original inventor and designer of many products that are commonplace in the laboratory. These items include Snap Ring Vials, Snap Top Caps, and Limited Volume Inserts with polymer bottom springs. We provide our customers with the tools to expand their capabilities, increase efficiency in the lab, reduce costs, and make their work easier.