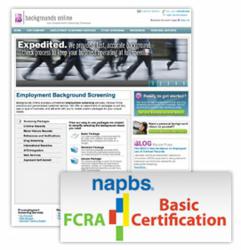 By attaining certification, Backgrounds Online demonstrates its commitment to protecting their clients and the rights of job seekers.
Sacramento, CA (PRWEB) May 01, 2012
Backgrounds Online - a prominent provider of pre employment screening and related services, today announced that their entire client support team has earned the FCRA Basic Certification. This certification program was created by the National Association of Professional Background Screeners (NAPBS) to give Consumer Reporting Agencies a broad overview of FCRA regulations so they can better protect and assist their clients.
Backgrounds Online's Certification
"It's imperative for an employment screening company to be aware of and compliant with all FCRA regulations." said Jennifer Wiehl, Director of Operations for Backgrounds Online. "Our entire team has shown an intense dedication to employer and employee rights by participating in this voluntary program and achieving certification as a group. We are all committed to providing the fastest, easiest and most authoritative background screening process."
Most employers screen potential employees during the hiring process. These businesses rely on employment background check providers to build comprehensive reports that empower them to make informed decisions. If, however, an employer utilizes a screening service that does not adhere to FCRA regulations, then that employer can be found liable and subjected to large fees and legal consequences, including criminal charges.
By attaining certification, Backgrounds Online demonstrates its commitment to protecting their clients and the rights of job seekers.
About FCRA Certification
The FCRA was created to enforce privacy standards regarding the dissemination and use of consumer data. NAPBS' FCRA Certification Program consists of 5 hour-long webinars followed by certification exam.
The NAPBS launched the Basic Certification program in November, 2011. Their goal was to develop a curriculum that offers an overall comprehension of the complex and multifaceted FCRA law. Individuals who become certified are then listed as such in the NAPBS Membership Directory.
About The NAPBS
The NAPBS "serves to represent the interest of companies offering tenant, employment and background screening." This non-profit organization was founded in 2003 with a mission to: "promote ethical business practices, promote compliance with the Fair Credit Reporting Act and Equal Employment Opportunity Laws and foster awareness of issues related to consumer protection and privacy rights within the background screening industry."
About Backgrounds Online
Backgrounds Online provides authoritative background screening, drug screening and related recruitment solutions. Since 1997, Backgrounds Online has helped improve and accelerate the pre-employment screening process for every type of business, from small startups to Fortune 500 corporations.
For more information, visit http://www.backgroundsonline.com.