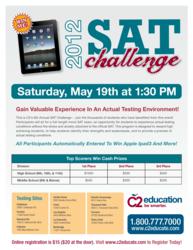 Los Angeles, California (PRWEB) May 03, 2012
C2 Education has been a fixture in the education community in Southern California for several years. This year, the company has chosen the Los Angeles area to host their SAT Challenge, an annual event open to all students. The SAT Challenge will take place on Saturday, May 19th at 1:30 PM.
The C2 SAT Challenge offers a great opportunity to students of varying age and ability levels. For high school students, the event offers a chance to experience real life testing conditions and to practice for the PSAT, SAT, or ACT. For younger students, the SAT Challenge allows students to practice for entry into programs such as Johns Hopkins' CTY or Duke's TIP.
The top three scorers in each age division will receive certificates for two free tutoring sessions in addition to cash prizes ranging from $200 to $1,000. All participating students will also be entered into a raffle contest. Through the raffle, C2 Education will be giving away gift cards to local retailers, free tutoring sessions, copies of The Smarter College Essay Writing Guide, and – most exciting of all – a brand new iPad3!
The Challenge will be hosted at 13 different C2 Education locations in southern California including the newly opened C2 Education Center in Calabasas.
For more information or to register for the SAT Challenge, call (800) 777 – 7000. Students may also register online at http://www.c2educate.com/special-offers/sat-challenge-2012/. Those students who pre-register will be offered a discounted rate of $15 per student; registration will cost $20 per student at the door. Space is limited, so interested students are encouraged to register ahead of time.