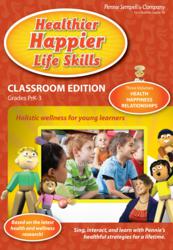 We are pleased to announce that the home edition titles were endorsed by KIDS FIRST! Coalition for Quality Media for Children.
San Francisco, CA (PRWEB) May 10, 2012
The new Healthier Happier Life Skills Series on DVD gives parents and teachers innovative tools to help children (ages 3-8) learn about health and happiness, so that they can develop and succeed in life. Self-management and the ability to focus one's attention are among a broad range of essential life skills introduced in the series for kids.
Studies demonstrate that school age children benefit from mindful-awareness training. In research reported in the Journal of Applied School Psychology 26 (2010) 70-95, second and third graders who participated in mindful-awareness activities for 30 minutes, twice weekly for eight weeks, showed increased self-regulation skills. Other studies report benefits such as improved attention and social skills, and reductions in absenteeism and rule infractions.
In a music-rich environment, young learners are introduced to a broad range of life skills and age-appropriate relaxation and mindfulness activities supporting physical, emotional and social well-being.
The animated DVD series, with its radio show Q&A format and activities, help kids develop awareness and skills such as: Coping with stress & self-relaxation - The importance of fitness, sleep, and nutrition - Cultivating gratitude and kindness - Building self-esteem and confidence - Listening and communicating - Sharing feelings - Being responsible.
Songs enhance the learning experience. For example, children are introduced to a simple breath exercise as they listen to the classic "Danny Boy". Kids sing-along to "When the Red Red Robin Comes Bob Bob Bobbin' Along" and "Grandma's Feather Bed" while learning about the importance of family experiences and happiness.They learn a mind-quieting meditation with finger poses as they listen to Stephen Sondheim's tender "Not While I'm Around".
The expanded Healthier Happier Life Skills: Classroom Edition (PrK-3) includes 31 episodes and a year of cross-curricular standards-based activities on 3 DVDs with closed captioning, a 100-page Teacher Guide, and 3 CDs, supporting health, language arts and social-emotional curriculum. (Kit $249. DVD duration: 180 minutes; Activities duration: 15+ hours)
The Healthier Happier Life Skills Home Edition DVD titles are HEALTH: Fun Time, Relax Time (50 min), HAPPINESS: The Best Things in Life Are Free (50 min), and RELATIONSHIPS: Love Songs for Our Children. ($19.95 each)
For more information or to order the Healthier Happier Life Skills series, visit our website.