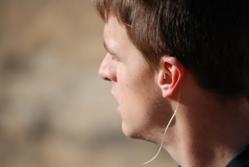 "This is a revolutionary technology that gives a safe option to listening to music and being safe on the road," Warner said.
Boise, ID (PRWEB) May 08, 2012
In the past year road bike racer Paul Warner has changed careers from ski racing to the "big leagues" of biking: he races at a Category 2 level, only 17 upgrade points away from a Category 1, he said.
How do earHero earphones relate to his road bike racing lifestyle? Safety and sound quality top the priority list in earphone product necessities, and earHero is one of the only sound systems that can rise to the occasion. Paul has used earHero to help make that transition from ski racer to road bike racer.
Paul shares how earHero's revolutionary earphones contribute to his exhilarating road bike racing lifestyle. In the competitive sport of bike racing safety is always a top priority and earHero helps Paul rise to the occasion. Bike racing has been a part of Warner's life since 2011, he ski raced before that.
Safety is important while training, because bike racers share the road with hazards including cars, other bikers, pedestrians and perhaps the occasional barking dog or agricultural/wild animal in Boise, Idaho.
Warner said, "earHero earphones are perfect for cyclists because the biker is able to listen to music while being aware of cars on the road."
When normal earphones "attack" by sealing off our canal path to hear, earHero can swoop in and save the day by preventing "environmental isolation."
While Warner or other exercise enthusiasts train on the road or in the foothills, normal earphones seal off the sound pathway to the ear canal.
Without the ability to hear these environmental sounds, Environmental Isolation is created.
"This is a revolutionary technology that gives a safe option to listening to music and being safe on the road," Warner said. "I feel very safe, I can hear cars coming around me and all of my surroundings."
The earHero system uses miniature speakers that are so tiny they never block the ear canal which allows the workout enthusiast, or in this case a bike racer to hear sounds around them while still jamming out to a handheld device. An iPod is Warner's music player of choice.
"What is really cool is how I can not even feel the ear piece in my ear," he said. One of his other favorite attributes are the internal buds.
Although it is illegal to race with any sort of earphones, Warner trains with the earHero sound system. He said it would be perfect for timed trials.
Safety is important, but so is sound quality when keeping up on the road.
Not only has earHero saved him in sound quality, but they have come to the rescue in safety as well.
Bikers and exercise enthusiasts rejoice: Join Warner in what he calls "the revolution of earphones," whether the recreational choice is biking, running or another activity.
Let Warner be the proof. No more compromising of sound quality or "environmental isolation" users in distress. Let earHero save the day at http://www.earhero.com.
**earHero earphones are a proprietary and patent pending product. Products and information are available at http://www.earhero.com.
About the audiologist inventor: Matt Murphy knew that standard earphones were unsafe due to Environmental Isolation. He created a product that would allow people to listen to music while maintaining awareness of sounds around them. Murphy not only invented this safe sound system, he uses it in his workouts and so does his family.
"The earHero earphones do not seal the ear so the sound pressure is released and the outside sound is allowed to enter the ear," Murphy said.
Murphy is a clinical audiologist with a private practice in Boise Idaho. Murphy and his wife Mali are audiologists. They are members of the American Speech and Hearing Association and own the House of Hearing Audiology Clinic. The clinic is a family business that was started in 1974,http://www.houseofhearingclinic.com.
Murphy specializes in testing and fitting of the latest hearing aid technology. He is dedicated to helping seniors with all of their hearing needs, and founded earHero Sales, Inc., http://www.earhero.com. Murphy developed the earHero line of earphones that allow the user to listen to music or two-way radio and maintain constant awareness to environmental sounds.
Contact Murphy directly at matt(at)earhero(dot)com.
Dara Barney contributed to this press release.