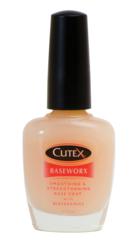 "The world doesn't need another base coat, which is why we wanted to create a truly distinctive product that delivers distinguishable results."
St. Louis, MO (PRWEB) May 01, 2012
Cutex®, the leading producer of nail care products since 1911, revolutionizes nail polish base coats with the introduction of Baseworx. Cutex's Baseworx is the first nail polish base coat formula incorporating bio-ceramic technology for longer lasting manicures. Baseworx is now available for purchase at HEB and Meijer retailers.
"The world doesn't need another base coat, which is why we wanted to create a truly distinctive product that delivers distinguishable results," said John Mandelker, president, Cutex. "Baseworx is it."
Based on bio-ceramic technology, Baseworx uses a very fine powder that bonds significantly to proteins, such as keratin in nails. The bio-ceramic powder improves the bond between nail polish and the nail, as it adheres to the keratin, resulting in longer lasting manicures. Baseworx protects nails longer and creates a smoother, stronger nail as it fills in ridges and masks other imperfections. It is effective as a base coat with any type of nail and polish, but can also be worn alone for a clean, natural, shiny look.
"Bio-ceramic technology has been significant in the advancement of medical products such as prosthetic hips, pace makers and joint replacements," said Frank Busch, founder and CEO of Natural 10 Beauty. Inc., an independent testing laboratory he founded in 1985. "While other base coats may increase the length of time nail polish stays on the nail, no other product delivers the same protein-bond and long-lasting results as Baseworx, due to our unique bio-ceramic technology."
The majority of respondents in Cutex's consumer research (85 percent) preferred Baseworx over their current product, while 75 percent said it did a better job "conditioning" and "strengthening" nails than their current product.
About Cutex
Headquartered in St. Louis, Cutex® is the leading producer of nail care products since 1911. The company launched the first nail polish available in 10 shades in the 1920's and since then, women in more than 100 countries have trusted Cutex as the nail cleaning and conditioning expert. Cutex® continues to offer scientifically-advanced, patented unique nail polish remover formulas, products and solutions for essential nail care. For more information, call (314) 518-0163 or visit http://www.cutexnails.com. To find products in a store near you visit http://cutexbrands.com/locator. Find Cutex on Twitter at @CutexNails and on Facebook at http://www.facebook.com/cutexnails.