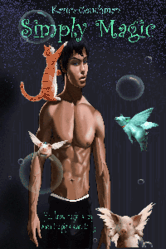 This thoughtfully spun tale weaves suspense, young love and ultimate evil into an unforgettable book.
INDIANAPOLIS (PRWEB) May 01, 2012
A young man learns he has a magical heritage when he receives a surprising gift on his 21st birthday. Unfortunately, an evil being also takes notices of his new gift and will stop at nothing to gain his secrets in this new release from Dog Ear Publishing.
Turning 21 brings an unexpected magical inheritance to Benjamin, a tall, lanky young man with exotic eyes and olive skin. In this imaginative new story, he wakes up after a fantastical dream to find a silver amulet around his neck that gives him magical power and provides a pass to another world. Benjamin decides to compete as a magician for Australia's Got Talent and soon becomes caught up with magical creatures and paparazzi. Not everyone is happy with his new gift: A mysterious, dark creature wants to steal his magical secrets, no matter what the cost.
"Simply Magic" follows the twists and turns of this fantasy as Benjamin's best friends Tiger, a ginger cat who is more than the feline protector she appears, Rose and Jason become victims as part of the obsessed creature's plans to force him into spilling his secrets. The changeling must complete a dangerous quest – and find his destiny -- before he can save his friends. Terrible events bring out the magical blood in Benjamin's parents, who join in the effort to thwart evil. This thoughtfully spun tale weaves suspense, young love and ultimate evil into an unforgettable book.
Author and illustrator Karen Couchman, who lives in Victoria, Australia, emigrated in 1965 from England. She worked in civil design, helping draft, design highways and towns on the Gold Coast in Queensland. Karen Couchman founded "Couchman Creations" a small internet business that designed and manufacturing cross-stitch patterns for the craft industry. She also wrote and illustrated "Tiger Tales" and is currently writing "Dragon's Breath," and "The Diary of Mad Mad Maddison deBanke" a young adult novel.
----------
For additional information, please visit http://www.karencouchman.com.au
Simply Magic
Karen Couchman
Dog Ear Publishing
ISBN: 978-1-4575-0937-7 160 pages $12.95 US
Available at Ingram, Amazon.com, Barnes & Noble and fine bookstores everywhere.
About Dog Ear Publishing, LLC
Dog Ear Publishing offers completely customized self-publishing services for independent authors. We provide cost-effective, fast, and highly profitable services to publish and distribute independently published books. Our book publishing and distribution services reach worldwide. Dog Ear authors retain all rights and complete creative control throughout the entire self-publishing process. Self-publishing services are available globally at http://www.dogearpublishing.net
and from our offices in Indianapolis.
Dog Ear Publishing – self-publishing that actually makes sense.