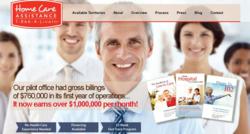 This past year has been the happiest of my life! I LOVE LOVE LOVE what I am doing! - Zach Smith, franchise owner of Home Care Assistance in Hot Springs, Arkansas
Palo Alto, CA (PRWEB) May 01, 2012
Home Care Assistance, North America's leading provider of in-home care, is excited to announce the launch of its new franchise website. The site boasts a wealth of information including available territories, video testimonials from franchisees, the Home Care Assistance business model, step-by-step franchise process, press and much more. The website underwent a thorough re-design to convey the company's commitment to excellence and mission to change the way the world ages. With a user-friendly navigation process and high-quality content, the website is a valuable resource for those interested in the senior care industry and Home Care Assistance senior care franchise opportunities.
"The positive feedback I have already received from prospective and current franchise owners is overwhelming," said Jack Johnson, Vice President of Franchising. "The interactive design of the website and wealth of content, including franchise video testimonials, have been a success among prospective owners. The website will continue to evolve with updated video testimonials and content so that people will be able to engage with the Home Care Assistance brand and owners."
Home Care Assistance will be hosting a free informational webinar for qualified entrepreneurs and professionals interested in the booming senior care industry on Thursday, May 17th at 10AM Pacific, 11AM Eastern. The webinar will introduce the Home Care Assistance model and reveal some of the tools and processes that the company has leveraged to achieve client revenues three times greater than the industry average. The webinar will be led by Lily Sarafan, President of Home Care Assistance, and Jack Johnson, Vice President of Franchising.
Potential franchise owners can find any information they need on the website from available territories to a primer on the hugely successful Home Care Assistance business model to securing financing and accessing credit through a special discounted partnership with BoeFly.com.
The Home Care Assistance business model, warmly embraced among affluent older adults who require exceptional full-time care at home, has helped over 60% of locations join the company's Million Dollar Club. Home Care Assistance, based in Palo Alto, California, has built a unique home care business within the space and has consistently been ranked in the Franchise Business Review's Top 50 for owner satisfaction and Entrepreneur Magazine's Franchise 500®.
Our most successful owners are entrepreneurial, hardworking and passionate about serving their communities; many of our owners do not have a background in senior care and have not previously owned a business. Find out more about our owners at franchise.homecareassistance.com or call Jack at 702-204-1436.
ABOUT HOME CARE ASSISTANCE
Home Care Assistance is the leading provider of home care for seniors across the United States and Canada. Our mission is to change the way the world ages. We provide older adults with quality care that enables them to live happier, healthier lives at home. Our services are distinguished by the caliber of our caregivers, the responsiveness of our staff and our expertise in Live-In care. We embrace a positive, balanced approach to aging centered on the evolving needs of older adults. A 2012 Franchise500® Company, Home Care Assistance has received numerous industry awards including Entrepreneur's Fastest-Growing Franchises and Franchise Business Review's Top 50. For more information about Home Care Assistance, our services and franchise opportunities, visit homecareassistance.com or franchise.homecareassistance.com.