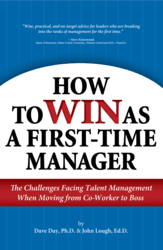 Written in a conversational style, the book offers practical suggestions that will guide a first-time manager to success.
COLUMBIA, S.C –
(PRWEB) May 02, 2012 -- The first section of the new book "How To WIN as a First-Time Manager" highlights the challenges new managers face in transitioning from the role of co-worker to positions of authority and leadership—issues such as being overwhelmed initially as new managers, being inadequately prepared for their new responsibilities, and having to discipline direct reports (often friends and former co-workers). Other topics explored in this first section relate to the challenges associated with redefining working relationships with direct reports, being compared unfavorably to former managers, jealousy from former co-workers over not getting the promotion to manager, disappointment of the group's informal leader that he or she was not picked for promotion, accusations of favoritism, and "testing" by friends and former co-workers (among other issues). The final topic covered in the first section is that all-important topic of adopting one's leadership style.
The content of the book is driven by the results of individual interviews conducted with 60 first-time managers from a variety of organizational settings. These managers had been in their current positions for at least six months, thus they had time to accumulate some "battle scars." At the same time, they had not been in their positions longer than one year so that their recall was not affected by experience and/or training opportunities. Written in a conversational style, the book offers practical suggestions that will guide a first-time manager to success.
These new managers were asked to identify those areas of management that were the most difficult for them to perform, as well as those areas these 60 managers would like to receive additional training. The second section of the book focuses on those issues most often identified by the managers in response to these two questions, including communication skills, motivation of employees, delegation of work, discipline of direct reports (to include conflict resolution and coping with difficult employees), time management, and team building.
The book's authors draw praise for their innovative and straightforward approach. "I love it when those who are close to the action write about important subjects. ... A new manager who has the benefit of this book would indeed have a better chance, as the title suggests, of winning!" writes Dr. Stephen Lundin, author of "Fish!" Speaking from an academic and industry perspective, Steve Reinemund, dean of Business at Wake Forest University and retired Chairman/CEO of PepsiCo, notes that "How To WIN" offers "wise, practical, and on-target advice for leaders who are breaking into the ranks of management for the first time."
For the past 30 years, author Dave Day, Ph.D., has helped develop newly appointed first-time managers. His most recent interest includes working with participants in talent management programs. He has been a student of management for over 48 years -- as a manager, college faculty member and management consultant. His management articles have appeared in such journals as Personnel Journal and the Journal of Management Education. His articles have been adopted by such organizations as the American Management Association and The US Office of Personnel Management. He also wrote Teaching Your 1st Management Course (South-Western College Publishing) designed to help guide doctoral-level students in management in teaching college-level management courses.
Author John Lough, Ed.D., has served as a senior manager for a top 10 financial services organization and on the staff of a major university business school. This career consultant and executive coach has written and co-written articles and books on management and leadership. He co-founded Georgians for Manufacturing, a statewide group of educators and business leaders aimed at raising public awareness about the positive effect of manufacturing on the national economy.
----------
For additional information, please visit http://www.winasfirsttimemanager.com.
How To Win as a First-Time Manager: The Challenges Facing Talent Management When Moving from Co-Worker to Boss
Dave Day and John Lough
Dog Ear Publishing
ISBN: 978-1-4575-0769-4 184 pages $14.99 US
Available at Ingram, Amazon.com, Barnes & Noble and fine bookstores everywhere.
About Dog Ear Publishing, LLC
Dog Ear Publishing offers completely customized self-publishing services for independent authors. We provide cost-effective, fast, and highly profitable services to publish and distribute independently published books. Our book publishing and distribution services reach worldwide. Dog Ear authors retain all rights and complete creative control throughout the entire self-publishing process. Self-publishing services are available globally at http://www.dogearpublishing.net
and from our offices in Indianapolis.
Dog Ear Publishing – self-publishing that actually makes sense.