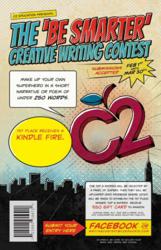 Atlanta, Georgia (PRWEB) May 01, 2012
C2 Education has announced five finalists for its first ever National Creative Writing Contest. Entrants were challenged to write a 250 word entry describing a super hero of their own creation. C2 Education received hundreds of creative and unique entries, making the selection process incredibly challenging.
After weeks of reviewing the entries, C2 Education narrowed the entries down to 15 Semi-finalists, each of whom has received a certificate for a free diagnostic test. This week, C2 Education announced the five Finalists. These entries represent the most creative and well-written of all of the super hero tales that were submitted. Each of these students will receive a $50 Amazon gift card, and each stands a chance to win the Grand Prize, a brand new Kindle Fire.
Congratulations to C2 Education's Creative Writing Contest Finalists: Andrew Hong from New Jersey, Jamie Kim from California, Lakshmi Burugupalli from Georgia, Madison Ford from Texas, and Alexandra Posley from Georgia!
The Grand Prize Winner will be determined by your votes! To vote, visit C2 Education's Facebook page or vote online through the C2 Education website. Voting will be held online from May 1 to May 31. Vote early and often!