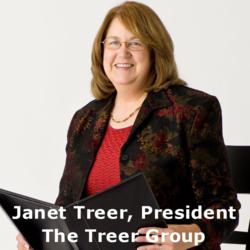 The best approach, especially in the long term, is to implement an effective leadership development program.
Lancaster, PA (PRWEB) May 01, 2012
Research done by the Center for Creative Leadership (CCL) has revealed that managers who excel in leading people, strategic planning, inspiring individuals and managing change are most likely to perform well in their jobs and achieve greater career success. The study also revealed that today's leaders fall significantly short in those four key leadership areas. The Treer Group has created special programs to develop these skills, which will prepare executives, managers and others for success in the changing business atmosphere.
"In today's difficult economy and changing competitive environment, companies are facing endless challenges coming from every direction," says Janet Treer, President of The Treer Group, a coaching, leadership development and management consulting firm based in Lancaster, PA. "Among the most significant is building a team with the solid leadership skills necessary to address the immediate challenges of today, while positioning their companies for success tomorrow."
To address this issue, seeking new staff who possess those skills is not likely the best solution because the skills deficit is widespread. Qualified leaders will be highly prized, hard to find and difficult to recruit.
"The best approach, especially in the long term, is to implement an effective leadership development program," continues Treer. Following are ways to develop these skills in each of the four target areas:
Leading People

Make sure that leaders understand and apply sound management skills and exhibit behaviors consistent with established best practices.
Assess the leadership skill levels for all management staff. Carefully select assessment tools that are appropriate and validated – such tools are available from management consulting firms.
Once gaps in skills are identified, create or obtain development programs to build the skills management staff need.
Develop mentoring programs.
Train management staff to foster an open and honest environment where feedback can occur on a regular basis.
Create a strong vision that leads an organization toward a positive future.
Share that vision with all staff, clearly saying where the company is going and how to get here.
Develop staff skills in strategic planning, change management and execution.
Involve both seasoned and up-and-coming staff members in planning to gain a variety of different perspectives and foster buy-in across the organization.
Create a versatile, well-rounded management team through development programs that expose staff to a variety of departments, skills and perspectives.
Encourage learning through mentoring and developmental opportunities.
Inspiring Commitment

Recognize and reward employees.
Share a clear vision and connect it to each employee's role.
Expect high standards from everyone.
Recognize, reward and celebrate successes.
Managing Change

Involve staff in planning, decision-making and implementing change initiatives.
Provide classes, training, forums and other resources that help staff manage change.
Understand that resistance to change is commonly based in fear and/or mistrust and can be overcome by regularly sharing information and providing frequent opportunities for discussion.
"Most important, successful leadership requires authenticity," says Treer. "Staff and employees will be more inspired, determined and dedicated if they feel their leader's commitment and belief in what they say."
Read Janet Treer's article: The 4 Leadership Skills You Need Most
About The Treer Group: The Treer Group provides coaching, assessments, tools and guidance to help organizations and individuals identify areas in need of improvement, discover practical solutions and implement long-lasting change that comes from within. Janet Treer, President, founded The Treer Group in 2007.