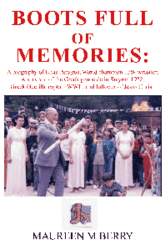 This new book, written by his wife, tells of Elias' gradual rise to fame from his inauspicious beginnings.
Leesburg, FL (PRWEB) May 03, 2012
In October 1923, all Greek subjects left their home via the port at Smyrna, Asia Minor, escaping the Turkish Army, which had defeated the Greeks and Armenians. Elias Panagos and his family survived that chaotic, dangerous time, even though Turks set fire to the building where they waited to leave. This new book, written by his wife, tells of Elias' gradual rise to fame from his inauspicious beginnings.
"Boots Full of Memories," told in a conversational style from Elias' recollections of his life, reveals a series of lucky breaks that led him to wrestling, a sport where he eventually became World H/W champion of Europe, Turkey, the United States and Australia. His wrestling even caught the attention of President Eisenhower. Elias fought beyond the borders of the ring, however, joining other men in defending Greece's borders when war broke out in 1940 with the Germans. Although ordered back to their homes, Elias and other mountain men fought with the Greek Guerilla Movement in the mountains of Parnassus. He earned war medals for his bravery there and for undercover work during the civil war.
A trip to Australia for wrestling changes Elias' wife when he meets his wife, Maureen, and decides to settle there. It is her conversion to Christ that eventually leads to his biggest challenge -- accepting the Lord in his own heart. Maureen accepts a call to perform missionary work in Greece, and Elias is happy to return to his homeland. It is while supporting and defending Maureen's evangelizing that Elias finds his own way to tell others about the Lord. From humorous moments to inspirational insights, Berry has captured her husband's vigor for life.
Author Maureen Berry, a native of New Zealand and Australia, accepted Christ as her savior in 1980. She and her husband, Elias Panagos, lived in Greece and Australia. Elias died in 2000. Maureen married Alvin Berry of New York in 2002. Berry, who has retired from church ministry, travels around the world with her husband and shares her life story and that of Elias. She has four children, nine grandchildren and two great-grandchildren.
----------
For additional information, please visit http://www.MaureenMBerry.com.
Boots Full of Memories
Maureen Berry
Dog Ear Publishing
ISBN: 978-1-4575-0886-8 104 pages $12.95 US
Available at Ingram, Amazon.com, Barnes & Noble and fine bookstores everywhere.
About Dog Ear Publishing, LLC
Dog Ear Publishing offers completely customized self-publishing services for independent authors. We provide cost-effective, fast, and highly profitable services to publish and distribute independently published books. Our book publishing and distribution services reach worldwide. Dog Ear authors retain all rights and complete creative control throughout the entire self-publishing process. Self-publishing services are available globally at http://www.dogearpublishing.net
and from our offices in Indianapolis.
Dog Ear Publishing – self-publishing that actually makes sense.