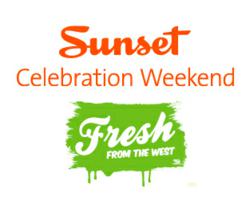 The West is a place for fresh starts, fresh ideas, and fresh faces. I'm thrilled to be a fresh face at Sunset and part of an event that continues to define what's fresh in the West after fifteen years. - Kitty Morgan, Sunset Editor-In-Chief
Menlo Park, CA (PRWEB) May 01, 2012
Sunset magazine (http://www.sunset.com) invites the public to Celebration Weekend 2012: Fresh from the West on June 2nd & 3rd in Menlo Park. At its 15th annual Celebration Weekend, Sunset will open its beautiful seven-acre Menlo Park campus to celebrate the freshest flavors, home and garden ideas, and travel inspiration that the West has to offer. Join Sunset editors, celebrity chefs, including Guy Fieri, and other renowned experts from the worlds of food, wine, travel, garden and home as they share tips, tastings, demonstrations and inspiration that brings the fearless spirit of the West to life.
"The West is a place for fresh starts, fresh ideas, and fresh faces. I'm thrilled to be a fresh face at Sunset and part of an event that continues to define what's fresh in the West after fifteen years," said Kitty Morgan, who joined Sunset as editor-in-chief in March of this year. "From the two cooking stages where the West's top chefs will be preparing their freshest recipes, to the Ultimate Outdoor Living Room experience, Sara Schneider's beloved wine seminars, and a jam-packed line up of home, garden and travel presentations, expect to be surprised, delighted, and inspired by every aspect of this year's event."
Featured exhibits include:
The Ultimate Outdoor Living Room
Showcasing a trend seen in the pages of Sunset, we're bringing the living room outside in our Ultimate Outdoor Living Room. One of Celebration Weekend's most anticipated and exciting features, the Ultimate Outdoor Living Room showcases fresh ideas for transforming decks and patios into stylish destinations to dine, entertain, relax, and play. Working with designer Hindesign and sponsors, Trex, Belgard Pavers, Sunbrella, and Benjamin Moore, Sunset will transform an asphalt patch of its parking lot into a dream backyard complete with the House Arc, an innovative, modular, and 100% off-the-grid dwelling designed by Bellomo Architects of Palo Alto. Visitors to this exhibit can expect inspiration and sustainable design innovation at every turn. Highlights include:

An outdoor bar constructed of reclaimed palette wood
An outdoor shower made with a living wall of succulents
An outdoor rocker bed made of reclaimed steel and wood
Space saving ideas for creating built-in "pop-up" deck furniture
Innovative shading systems
The Ultimate Outdoor Living Room will also provide the backdrop for a full line up of home and design demonstrations, including presentations from Sunset editors, experts, and TV personalities like:

Chip Wade, host of HGTV's "Curb Appeal" and "Elbow Room"
Ahmed Hassan, host of the DIY Network's "Yard Crashers"
Karl Champley, master builder and host of the DIY Network's "Wasted Spaces"
Celebration Weekend Honda CRV Giveaway Sweepstakes
For the fourth year in a row, Celebration Weekend sponsor, Honda, will be giving away a new car to one lucky winner! This year's sweepstakes features a 2012 Honda CRV. Enter to win at the event, or visit http://www.sunset.com/cw for more information and entry details.
Plus:
Nine Celebrity Chefs on Two Amazing Cooking Stages
Over two days, nine celebrity chefs, including Food Network's Guy Fieri, Top Chef Just Desserts: Season 1 winner Yigit Pura, and local legends Chris Cosentino of Incanto and David Bazirgan of Fifth Floor, will wow thousands of food lovers on two fantastic stages. Catch your favorite culinary star at the IKEA Cooking Stage and then tour the kitchen for a behind the scenes look. Or, check out the Outdoor Kitchen, Sunset's dream outdoor entertaining area brought to you by Safeway, and learn grilling recipes and techniques from invited celebrity chefs. Sunset's legendary test kitchen can also be toured during the event.
For more information, including cooking stage schedules, go to: http://www.sunset.com/cw
The West's Best Food Trucks
For the third year in a row, Sunset is welcoming some of the West's most popular food trucks to park on-site to give visitors a taste of how the West's savvy cooks have updated and elevated street food. No Twitter feed necessary: these roving restaurants will be parked at Celebration Weekend all weekend long. Trucks will offer a diverse selection of flavors and treats from Korean and Vietnamese cuisine to fried chicken, and paella! Stay tuned for more announcements about the food truck line up at Celebration Weekend 2012.
Wine Seminar Courtyard
One of the most popular features year after year, the Sunset wine seminars consistently sell out, so be sure to register for these first-come, first-served sessions early! Join Sara Schneider, Sunset's wine editor, in a beautiful courtyard in one of Sunset's Cliff May-designed buildings as she takes participants on a wine-lover's journey through the West's freshest wine regions, including Mendocino, Washington, Oregon, and the Temecula Valley. Check out the "Start the Day with Bubbles" seminar for a perfect start to the perfect Celebration Weekend experience.
Cost per seminar: $15.00 per person. Wine Seminars have limited seating and are available on a first-come, first-served basis. Sign-ups will be taken on-site. The wine seminar schedule can be found at http://www.sunset.com/cw
Garden and Outdoor Living Stage
Sunset garden gurus, including editors Kathy Brenzel, Julie Chai and Johanna Silver, will be joined by some of the leading experts in landscaping, backyard farming, and horticulture at this perennially popular area of Celebration Weekend. New this year is an expanded Backyard Farm area, where attendees will learn about the hottest trends in canning and preserving, beekeeping, and backyard chickens.
Secondhand Sunset
Greatly expanded, this year's Secondhand Sunset is your opportunity to shop the pages of Sunset. The sale promises treasures uncovered from the magazine's prop studio, library, Idea Houses, and even editors' own closets. Historic items from the Sunset campus will also be for sale. Proceeds will benefit a local charity.
Travel Stage
Want advice on the West's best, under-the-radar campsites, natural wonders, road trips and more? Looking for stylish and clever ways to get more fun and flavor out of this summer's camping trips? How about tips on how to take gorgeous travel photography with just your Smartphone? Head on over to the Travel Stage to stock up on advice and inspiration!
Celebration Weekend 2011 Event Information:
A complete schedule of presenters and events, event information, and online tickets can be found at http://www.sunset.com/cw. Celebration Weekend sponsors include: Belgard, Benjamin Moore Paints, Best Foods, California Avocado Commission, Dr Pepper, Gladiator, The Hawaiian Islands, Heinz, Honda, IKEA, Orchard Supply Hardware, Oroweat, Safeway, SC Johnson Wax, Sunbrella, Trex, and Weber. Our community partner is the San Mateo County Transit District. A portion of the proceeds will benefit the Children's Health Council.
What: Sunset Magazine Celebration Weekend: Fresh from the West
Date: Saturday and Sunday, June 2nd and 3rd
Time: 10am to 5pm
Prices: $16 General Admission, $14 Seniors (60+, no other discounts allowed)
Kids: Free Under 12
Discount: See 2012 Event Information at http://www.sunset.com/cw to find out how to save $1
Tickets: Tickets will be sold at the door, or in advance at http://sunsetcw.eventbrite.com/ (discounts cannot be applied to advance tickets)
Location: Sunset Headquarters, 80 Willow Road Menlo Park, CA 94025
More info, directions, and stage schedules: http://www.sunset.com/cw
Questions: Call 800-786-7375, or send an email to celebration@sunset.com
**Sunset editors available for interview.
About Sunset
Sunset magazine was founded in 1898 and has become the premier guide to life in the West, covering the newest and best ideas in Western home design and garden, food and entertaining, and regional travel in 13 Western states. It is published in five zoned monthly editions--Pacific Northwest, Northern California, Southern California, Southwest and Mountain--showcasing the region's unique lifestyle and noteworthy destinations and inspiring its nearly five million readers to achieve the dream of living in the West. The magazine is also available on all tablets. Sunset is part of the Lifestyle group of magazines and websites published by Time Inc. http://www.sunset.com
###