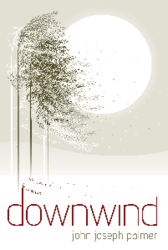 The author's deceptively simple words urge readers to re-examine how they think about the world.
Pittsburgh, PA (PRWEB) May 03, 2012
The author of this new book of poems admits he didn't much care for poetry while in high school. Lyrics to music, on the other hand, stirred his soul. He began to create his own work, led by words of Simon & Garfunkel and Jim Morrison, as well as classic poets like Edgar Allan Poe, Shakespeare and e.e. cummings. The result of his creativity, on the back burner for a few decades, offer insights into his search for answers to what he calls "the unanswerable questions" of life.
The poems gathered in "Downwind" range from "circus life," a gentle reminder of the mysteries of religion, to "my falcon memories," which weeps for lost love, and everything in-between. The selection "a toast" celebrates love, including "loons that trill with their mates" and "guardians that circle our souls and nest in our hearts," author John Joseph Palmer writes. In "passion," he explores powerful emotion like jealousy, doubt and anger.
Palmer's selection titled "poets" tells of the different lens writers use to explain their world, even for a small subject like a dandelion. The author's deceptively simple words urge readers to re-examine how they think about the world. For instance, in "the Word," Palmer writes that "there only needs to be an audience of one for the words to be of worth. From a poet or a pastor, if the words are heard and a heart is stirred, so be it then, Amen."
Pittsburgh native John Joseph Palmer worked at U.S. Steel after attending the University of Pittsburgh, as well as at Gulf Oil. After more than two decades of putting his dreams of writing on hold, he has begun publishing his work. Palmer and his wife have been married 30 years.
----------
For additional information, please visit http://www.johnjpalmer.com.
Downwind
John Joseph Palmer
Dog Ear Publishing
ISBN: 978-1-4575-0942-1 124 pages $12.95US
Available at Ingram, Amazon.com, Barnes & Noble and fine bookstores everywhere.
About Dog Ear Publishing, LLC
Dog Ear Publishing offers completely customized self-publishing services for independent authors. We provide cost-effective, fast, and highly profitable services to publish and distribute independently published books. Our book publishing and distribution services reach worldwide. Dog Ear authors retain all rights and complete creative control throughout the entire self-publishing process. Self-publishing services are available globally at http://www.dogearpublishing.net
and from our offices in Indianapolis.
Dog Ear Publishing – self-publishing that actually makes sense.