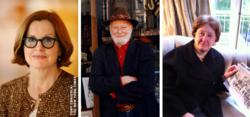 Smith, Ferlinghetti, and James are being recognized for their outstanding achievements in shaping contemporary art, culture, and discourse—for driving public awareness of emerging issues and ideas in the visual arts.
San Francisco, CA (PRWEB) May 01, 2012
The San Francisco Art Institute (SFAI), one of the nation's oldest and most prestigious contemporary art colleges, is proud to honor famed art critic Roberta Smith; Bay Area poet, painter, activist and publisher Lawrence Ferlinghetti; and long-time SFAI Trustee Beverly James at the Institute's 134th Commencement Ceremony on Saturday, May 12. All three are being recognized for their outstanding achievements in shaping contemporary art, culture, and discourse—for driving public awareness of emerging issues and ideas in the visual arts. Smith will be the recipient of an Honorary Doctorate of Fine Arts, Ferlinghetti the Douglas MacAgy Distinguished Achievement Award, and James a special distinction for her many years as an SFAI Trustee, Trustee Emeritus, and Chair of the Board. At the ceremony, Smith and Ferlinghetti will celebrate the graduating class of 2012 by sharing their reflections.
About Roberta Smith
As an art critic at The New York Times for more than two decades, Roberta Smith is among the most influential writers on contemporary art in the United States. Smith has written numerous catalogue essays, monographs on contemporary artists, and exhibition reviews. In 2003, she was awarded the Frank Jewett Mather Award for Criticism by the College Art Association. In 2011, she became co-chief art critic at the Times.
Smith was born in New York City, raised in Lawrence, Kansas, and earned a B.A. from Grinnell College in 1969. An alumna of the Whitney Museum Independent Study Program, she worked at the Museum of Modern Art and the Paula Cooper Gallery in New York before becoming a professional art critic. She published her first criticism in Arts Magazine in 1972, wrote for Artforum and then served as a senior editor for Art in America. In 1981, she became art critic for the Village Voice. Five years later she moved to The Times, where she remains today. Smith lives in New York with her husband, Jerry Saltz, who is senior art critic for New York Magazine.
About Lawrence Ferlinghetti
Lawrence Ferlinghetti is one of the defining voices of "wide-open" poetry, a movement often associated with the 1950s Beat generation. He is also well known for his contributions as a painter, liberal activist, and the co-founder of San Francisco's City Lights Booksellers & Publishers, which has served for half a century as a meeting place for writers, artists, and intellectuals.
Ferlinghetti's poetry has great resonance for visual artists. The first line of his most famous poem ("A Coney Island of the Mind") refers to Goya, and in one of the most stunning passages of that work, he writes of a painting "that would not die." Ferlinghetti has been a regular fixture at SFAI for several decades, having participated regularly in Open Studios at the Institute's famed Russian Hill campus in San Francisco.
Born in Yonkers in 1919, Ferlinghetti completed his undergraduate degree at the University of North Carolina at Chapel Hill, before serving in the U.S. Navy during World War II. He later received a Master's degree from Columbia University and a Doctorate de l'Université de Paris (Sorbonne). In the early 1950s, Ferlinghetti settled in San Francisco where, along with Peter D. Martin, he founded City Lights Bookstore, the first all-paperbound bookshop in the country, and a few years later, the City Lights publishing house. He is best known for A Coney Island of the Mind (New York: New Directions, 1958); the title of his most recent book is Americus Book I (New York: New Directions, 2004). Ferlinghetti has been the recipient of numerous prizes and awards, including the Robert Frost Memorial Medal and the Author's Guild Lifetime Achievement Award.
Ferlinghetti is a member of the American Academy of Arts & Letters. He has had several one-man exhibitions of his paintings, including The Butler Museum of American Art (1990), the Palazzo delle Esposizione in Rome (1996), and "SixtyYears of Painting" at the Museo di Roma in Trastevere (2010). He will have a large one-man show at the Sonoma County Museum of Art opening on June 23, 2012. In San Francisco, he is represented by George Krevsky Fine Arts.
About Beverly James
Beverly James was first elected to the SFAI Board of Trustees in 1985 and has served as Chair, Vice Chair, Board Secretary, and the Chair of both the Development Committee and Committee on Trustees. She was elected as Emeritus Trustee in 2010.
A native San Franciscan, James received an A.B. in Art from San Francisco State University. For decades, she has worked as a designer. She was also an active community volunteer at several of San Francisco's leading arts institutions. In addition to her service as Trustee of SFAI, she has been a Trustee of the Fine Arts Museums of San Francisco, Commissioner of the San Francisco Film and Video Arts Commission, and Board Member of ArtTable.

About San Francisco Art Institute
Founded in 1871, the San Francisco Art Institute (SFAI), a nonprofit art college, is one of the nation's oldest and most prestigious schools of higher education in contemporary art. A small school with global impact—notable faculty and alumni include Richard Diebenkorn, Ansel Adams, Annie Leibovitz, Enrique Chagoya, Kathryn Bigelow, Peter Pau, Ruby Yang, Paul Kos, George Kuchar, Lance Acord, and Kehinde Wiley—SFAI enrolls approximately 650 students in undergraduate and graduate programs, and offers a wide range of continuing education courses and public programs. The historic Chestnut Street campus is located in San Francisco's Russian Hill neighborhood, and the Graduate Center is located in San Francisco's Dogpatch neighborhood.
For more information about SFAI, please visit http://www.sfai.edu.
Twitter: http://twitter.com/sfaievents
Facebook: http://www.facebook.com/SanFranciscoArtInstitute
Contact:
Lauren Dresnick
415.749.4508
ldresnick@sfai.edu