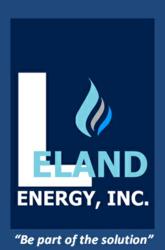 Henderson, Nevada (PRWEB) May 01, 2012
Leland Energy, Inc., through its subsidiary Leland Kentucky Holdings, Inc., announces the acquisition of additional acreage and the commencement of its new re-completions, drilling and development program in Pickett County, Tennessee. This lease, which has 7 currently producing wells, was first put in production in the late 1980s.
Besides the initial wells, the lease located near Oak Ridge, Tennessee, has 15 additional off-set and development well locations. The Initial Production rates on the current wells averaged 37.8 BPD, this primarily from the Knox formation. In addition to the Knox formation (approximately 1850 feet total depth), there is production in the area from the Sunnybrook, Stones River and the Murfreesboro formations as well.
The development plans call for the re-work and treatment for the current 7 existing wells, and the initial drill and test for 5 new wells in all direct offset locations. Leland will contract Universal Well Services, Inc. to do the re-work on the wells using nitrogen foam frac technology.
"After looking at the initial production numbers and the Oil-In-Place & Reserves Estimates by Mr. Harold L. Irby, we are looking forward to a very successful commercial project here in Pickett County," said Stephen Thompson, President of Leland Energy. He added, "The geology which was supplied by Mr. Jack Wheat shows great developmental potential in the entire Moodyville Quadrangle. This lease is positioned perfectly for a very commercially successful development program."
Leland expects to spend between $1.5 to $2 million dollars on re-completions, drilling and development over the next 3 to 6 months. Treatment and drilling activities shall commence in the first week of May. All oil produced on this lease will be sold to Barrett Oil Purchasing, Inc. and/or Coomer oil, LLC.
In addition to Tennessee, Leland has operations in Colorado and Kentucky and is headquartered in Henderson, Nevada with administrative office in Beverly Hills, CA. For additional information, call 1-888-LELAND-1 or visit http://www.lelandenergy.com.