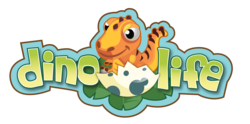 San Francisco (PRWEB) May 01, 2012
GREE today announced the release of Dino Life - the first Android application from GREE's recently opened San Francisco studio. This new Android-exclusive title is a free-to-play game inviting players to step into a prehistoric world where dinosaurs and cavemen live in peaceful co-existence. But it isn't only the village residents that live in happy harmony; the game will also have great social features and in the next few weeks users will be able to, for the first time ever, create an entirely new dinosaur species by breeding dinosaurs in cooperation with their friends.
Dino Life opens the doors to a lush world where players can collect and breed over 60 adorable dinosaurs while building a Stone Age tribe. Each player can progress through adventurous quests to build their own personal prehistoric story. The game also features the unique ability to crossbreed dinos, allowing players to hatch their very own never-before seen species of dinosaur. Featuring original art and virtually endless opportunities for users to create something completely their own, the world of Dino Life is driven by each player's imagination.
"GREE is excited about the recent advancements in Google Play and its potential to expand the free-to-play ecosystem on Android. Dino Life is our first Android title and exemplifies our commitment to offer unique gameplay mechanics, great social features and highly-stylized art in each game," says Eiji Araki, SVP of Social Games, GREE International, Inc. "This game is another step towards creating an ecosystem of games free from geographic or operating system restrictions and is limited only by the imagination of the gamer and the developer."
GREE's new North American studio, based in San Francisco, is focused on creating the best free-to-play game experiences for mobile and plans to release more titles in the upcoming months. Additionally, GREE is currently building a social mobile games platform, scheduled for release in Q2 2012. The new GREE platform will feature high-quality content and a robust social gaming experience, inviting users to play games with and against their friends while joining and interacting with a global mobile gaming community.
For more information about the game, please visit http://dinolife.gree.net, follow-us on Facebook at http://www.facebook.com/dinolife or on twitter @dinolifegame for the latest news.
About GREE, Inc.
GREE is a global mobile social gaming company at the forefront of mobile technology. GREE is focused on building the leading mobile social gaming ecosystem for users and developers worldwide, with an emphasis on creating and supporting unique free-to-play game content. Following the acquisition of OpenFeint Inc. in April 2011, GREE's robust network now reaches over 190 million players and offers over 7,500 game applications to users around the world. With offices in Tokyo (head office), San Francisco, London, Beijing, Sao Paulo, and Dubai, GREE will continue to expand aggressively worldwide.
Media Contacts:
Tali Fischer
Sr. PR Manager, GREE International, Inc.
Tali.fischer(at)gree(dot)net
818-653-9234
Ken Johnston, VSC for GREE International, Inc.
ken(at)vscconsulting(dot)com
415-677-9125 x206