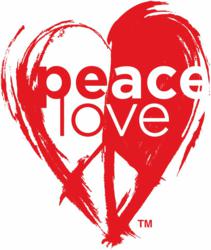 We're elated to introduce these new initiatives that advance our goals of not only eliminating stigma associated with mental illnesses, but making it cool to support those who are affected by mental health disorders
Providence, RI (PRWEB) May 01, 2012
Coinciding with today's start of Mental Health Month, PeaceLove—an organization dedicated to eradicating stigma associated with mental illness—announces new strategic partnerships and lifestyle products.
First, this spring marks the debut of PeaceLove's first high-end fashion jewelry collection created by renowned designer Angela Moore. The PeaceLove collection, featuring PeaceLove's symbol in her signature hand-painted style, launched this month at Angela Moore's stores and on angelamoore.com.
A new line of PeaceLove greeting cards, meanwhile, will debut at the National Stationery Show in New York this month. The cards, created by Hallmark affiliate William Arthur, feature designs inspired by art created by participants in PeaceLove's community arts programs.
"We're elated to introduce these new initiatives that advance our goals of not only eliminating stigma associated with mental illnesses, but making it cool to support those who are affected by mental health disorders," says Matt Kaplan, PeaceLove's CEO and co-founder. "I'm humbled that brands of this caliber are championing our mission to provide hope and a positive symbol for mental health wellness and advocacy."
Today is the start of Mental Health Month, a tradition started by mental health advocates in 1949 to raise awareness and encourage treatment for the one in four Americans who live with a diagnosable, treatable mental health condition. For more information about Mental Health Month, visit: http://www.mentalhealthamerica.net/
For more information about PeaceLove visit http://www.peacelovestudios.com
About PeaceLove
PeaceLove is an organization determined to change the face of mental illness through its positive symbol and lifestyle brand that encourages hope, support and open conversations for the 1 in 4 Americans who suffer from a mental illness. The PeaceLove symbol embodies peace in your mind and love in your heart—basic, but often elusive, feelings for those impacted by mental health disorders. With that symbol as a rallying point, PeaceLove is creating arts programming that fosters peace of mind, and inclusive spaces where communities come together for creative expression and mental wellness. PeaceLove strives to do for mental health what Livestrong does for cancer, and has forged high-profile partnerships—including Philip Stein Watches, CVS Caremark and William Arthur—to provide lifestyle goods that support this cause.