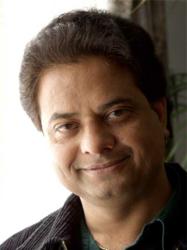 I am here to raise consciousness. If your consciousness is low, then your universe is very small" – Mahendra Trivedi
Scottsdale, AZ (PRWEB) May 01, 2012
Mahendra Trivedi, founder of Trivedi Master Wellness and Trivedi Products (divisions of Trivedi, LLC), has been invited to share his knowledge of how everyone can awaken their consciousness on a special call for Inner Healing Compass' Year of the Dragon Teleseminar with Karen King and Salma Formades on Wednesday, May 2nd at 9 PM ET/6 PM PT. Inner Healing Compass Teleseminars were created to help individuals tap into their inner power by providing them with cutting edge speakers and leading edge information.
Mahendra Trivedi is known throughout the world for his powerful Energy Transmissions known as the Trivedi Effect®. The experiences of over 150,000 individuals demonstrate the impact of these Transmissions on humans, and over 4,000 scientific studies establish that this impact extends far beyond humans to plants, animals, microbes and even non-living materials. Remarkable health improvements have been reported, in addition to improved sleep patterns and further disappearance of fear from future and stress issues.
Mr. Trivedi's mission, and that of the nonprofit Trivedi Foundation and Trivedi LLC, is to utilize the Trivedi Effect® to usher in a new era that integrates scientific research with consciousness to vastly improve the human condition and benefit humanity on a global scale. Research conducted on Mr. Trivedi's energy and the Trivedi Effect® is featured in six scientific publications. Additional projects are under way in United States universities and private research organizations to further explore how his energy is useful for mankind.
Participants can enroll in this complimentary event and hear not only Mr. Trivedi's also be invited to join the rest of the teleseminar series of 24 great leaders at no charge. The speaker panel consists of likeminded individuals, who recognize the unlimited potential that exists within every person. In order for that potential to blossom, there needs to be a complete integration of mind, body and spirit. Consciousness refers to an individual's awareness of their unique thoughts, memories, feelings, sensations and environment. Research on human consciousness has grown tremendously since the 1950's, when early psychologists first studied the conscious experience. American psychologist William James compared consciousness to a stream; unbroken and continuous despite constant shifts and changes. From there, total wellness can occur.
Several other speakers that will join Mahendra Trivedi during the Year of the Dragon Teleseminar include world-renowned experts such as:

Creator of Quantum Light weaving Kenji Kumara
Human Resilience Expert Dr. Symeon Rodger
Teacher from The Secret and Feng Shui expert Marie Diamond
Worlds top relationship with money coach Morgana Rae
Self made millionaire and release technique founder Larry Crane
Anti-aging and longevity expert Dr. Norm Shealy
Register at: http://www.1shoppingcart.com/app/?af=1310818