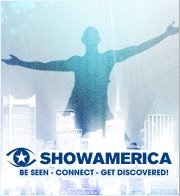 ...helps artists to reach their fans, showcase their media and to promote themselves...
New York, NY (PRWEB) May 01, 2012
By combining the competitive crowd sourcing concept with a professional networking platform, Show America offers a unique and effective system designed specifically for talented and creative people to be able to promote themselves to their fans and multiply their fan-base. In addition, it offers a place for fans to discover new media and entertainment, and as they get more involved they establish friendships with a like minded crowd and artists and have the opportunity to vote on online contests and win prizes.
"I am very pleased with the development of ShowAmerica.com over the past year and I am also very proud of my team for developing such a new and innovative platform. Show America is offering a tremendous opportunity for users and brands to participate in our mission to change the entertainment and art industry by integrating social media tools that connect artists, fans, and industry professionals together," says Show America's Founder and CEO Craig Escobar.
Escobar further comments, "When people in the entertainment and art industry are looking to network and gain exposure, they need a tool that allows talent to upload their media portfolio, and to be able to create a professional profile that allows them to add fans to it. This is what my team has created, and we call it a ProFolio, which is a combination of a fan based, social profile and a professional portfolio. This is where Facebook and Linkedin fail to provide a social and professional platform that efficiently meets the needs of artists and entertainers. ShowAmerica is going to fill that void!"
Radyar Shirvanloo, COO of ShowAmerica.com, comments:
"ShowAmerica.com is combination of a Professional Networking Site, a Cloud based Content Delivery System and a Social Aggregator that helps artists to reach their fans, showcase their media and to promote themselves, all from one profile page. We have carefully selected partners such as Badgeville, Vid.ly, and Rackspace to make the site more interesting and functional for users and fans."
Show America is set for its big launch this summer, and excitement is growing as thousands of artists and fans eagerly await their chance to be a part of it.