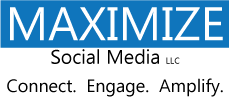 "We hear it quite often-'Facebook is only b2c.' That's simply not the case if you employ the right strategy," said Chris McLaughlin, CEO of Maximize Social Media LLC
Los Angeles, CA (PRWEB) May 01, 2012
Social media management firm Maximize Social Media LLC announced its business to business social media program today, providing needed support for the business community that is interested in social media marketing and business development. Maximize will provide social media consulting for businesses interested in LinkedIN while also providing full management services for businesses using Facebook, Twitter, and other social media platforms.
"All too often businesses make the false assumption that b2b social media is limited to LinkedIN. Of course we believe LinkedIN offers an incredible platform with very high quality demographics, but there are many b2b strategies businesses can employ on Facebook and Twitter," said Chris McLaughlin, CEO of social media agency Maximize Social Media LLC. McLaughlin noted that b2b businesses often ignore Facebook despite Facebook's strong membership of over 900 million users. "We hear it quite often: 'Facebook is only b2c.' That's simply not the case if you employ the right strategy," he said.
Maximize's Director of Strategy, Jarrett Smith, discussed a recent success with a b2b client: "We are especially proud of growing an international flavoring company's social media presence on Facebook. While some might believe this was a business to consumer effort, it actually was geared towards other businesses – by using targeted Facebook advertising we were able to target the likely business owners who are in charge of ordering the flavoring company's product."
Advertising executives at firms focused on b2b are invited to contact Maximize for a no obligation consultation on how Maximize can improve the company's b2b social media strategy.
About Maximize Social Media LLC
Maximize Social Media (http://maximizesocialmedia.com) is a leading provider of social media management services for clients in over 40 different verticals. With offices in Florida and Los Angeles, Maximize provides social media consulting and Facebook advertising management for clients in English speaking countries such as the US, Canada, and Australia. The company also features social media management outsourcing for busy social media mangers looking for additional assistance on a white label basis.