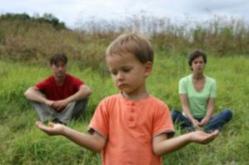 "Are you aware that your children see, hear and feel the anger and tension between you and your ex-spouse a lot more than you realize?
Atlanta, GA (PRWEB) May 01, 2012
Calling on all divorcing and divorced couples, divorce attorneys, mediators, therapists, financial planners, clergy and other professionals to help parents access the tools to make the best decisions regarding their own and their children's well-being when coping with divorce issues.
"The "triple threat" of marital conflict, divorce, and out-of-wedlock births has led to a generation of U.S. children at great risk for poverty, health problems, alienation, and antisocial behavior" ( McManus: Ethics & Religion Sept. 12, 2004 Column #1,203)
Joanie Winberg, the CEO and Founder of NADWC asks the pertinent question, "Are you aware that your children see, hear and feel the anger and tension between you and your ex-spouse a lot more than you realize?" Winberg continues listing the shortcomings of children in divorce situations as being:
1. They are twice as likely to drop out of school as those from intact homes
2. They are three times as apt to have a baby out of wedlock
3. They are five times more likely to be in poverty
4. They are twelve times more likely to be incarcerated
( McManus:Ethics & Religion Sept. 12, 2004 Column #1,203)
Other findings include:
1. Rates of child abused are eight to ten times higher in step/blended and sole families than in natural, two-parent families.
2. The sons of single parents are more prone to commit suicide as adults than others, and daughters are more likely to have abortions and more children.
3. When compared with people who grew up in a traditional family with both parents, children of single parents are hospitalized more often due to injuries and poisonings.
4. The sons of single parents also commit more crimes
(*Helsinki Sanomat:"Children raised by single parents more prone to difficulties in adulthood." April 20, 2001)
Our Commitment to you and your kids is why we are doing this Launch. We invite you to join our team and help us bring resolution to divorce conflict.
a) Over 1,000,000 children go through divorce each year through no fault of their own
b) "…children will say the divorce was the worst thing that happened in their lives – and I have never seen a victimless divorce."
c) Parents may begin to act emotionally and irrationally about the children
d) Parents will attempt to cut off the other spouse's contact with the children
e) Parents may use the children as "spies" or messengers
f) Often the other parent is criticized in front of the child
(Sources: NPR Interview – 01/31/2002 – E. Mavis Hetherington, professor emeritus of psychology at U of Virginia | "Guy" Ferraro, president of the American Academy of Matrimonial Lawyers – PR Newswire – June 5th, 2007 | St. Johns Law Review 2003)
Are you still fighting with your ex-spouse even after years of being divorced?
Are you part of at least one of these demographics?
32% explaining the divorce to the children and other relatives is their worst fear
52% Fear of living alone (even with children)
57% Getting on with a "new" normal life
67% Trouble trusting God again
75% Out of place in social situations
80% Loneliness is the greatest fear
(Sources: Divorce, Abuse and Stress – Poll Results for Women by April Lorier – 2007 eZine
Be part of this movement for resolution via empowerment).
We also need to remember that:
There were over 1million divorces in the U.S. in 2006
That would mean that in just the couples alone there were over 2 million people involved
There are at least 8 divorces every minute of every business day in the United States
75% of filings were by women
(Sources: National Vital Statistics Reports – NVSS – CDEC- US Dept of Health and Human Services – Data for 2006 – 8/28/2007 – volume 55, number 20)
"The People Skills Program- Resolving Conflict in Co-Parenting" is the answer to making things different!
Join the team that will help parents to identify and resolve conflicts; improve communication skills to help turn "killer statements" into calm conversations and discussions. Learn the necessary listening skills to defuse misunderstanding, judgment and conflict to feel heard and understood. Become aware of how you come across to others and learn how to deliver your message more effectively. And most important, have a strategy in place to move on with your life Better Than Ever.
Adio-Moses says, "When you join our team, you will learn to actively create an atmosphere of encouragement and cooperation to build children's confidence and self-esteem. Save time, money and reduce conflict and the need for protracted legal intervention, enjoy a more fulfilling life by reducing miscommunication among parents so change and growth can occur with less stress and strife."
Get the Facts Today.
Become a member of "The People Skills Program- Resolving Conflict in Co-Parenting" -- a simple program to help you and your children thrive
Connect with Your Recovery Coaches and Mentors.
Joanie Winberg is a Divorce Mentor, Certified Behavior Consultant and CEO of the National Association of Divorce for Women and Children. She has been helping 100's of people navigate the pitfalls of divorce and co-parenting and is a phenomenal resource. She is also the founder of the Single Again! Now What? Radio Talk Show, heard worldwide on the Divorce Source Radio Network.
Dr. Dee Adio-Moses is a Divorce Mentor, an Ordained Minister, International Spiritual Teacher and Life Strategist. She is the author of several books, including "Live Again After Divorce" which you can download free at http://www.betterthaneverafterdivorce.com. Adio-Moses shares Joanie's goal of facilitating healing and healthy decision-making following separation or divorce. "By bringing the world's legal, therapeutic and educational communities together we can reach parents with messages designed to encourage peaceful divorce outcomes," says Adio-Moses.
Testimonial:
"When I met Joanie it was easy to be inspired by her positive attitude and generous nature. Joanie helped me see myself in a different place and gave me the tools to believe in myself and focus on my gifts and recognize my passions. Raising my children as a single parent has been my priority for many years and Joanie has helped me to be the best parent I can be for my children. Her enthusiasm is contagious!"~ Pauline Sullivan, client of Attorney Mark Greene
"Dr. Dee thank you, what helped bring me back to life was the time spent with you, when I felt hopeful and positive again, the impact of which I cannot describe... Maybe it was the prayer, your incredibly strong beliefs or the feeling of someone actually believing in me... Instead of lashing out, I am now "looking forward'. I've sorted out many things that were causing problems, and am now taking concrete steps. I wonder what would have happened if I hadn't taken the BTEAD, and received the greatest gift, the one of hope, which you gave me, Dr. Dee...would I still be in the depths of depression? I am glad I took ACTION. Lots of love, and I pray that many other women benefit from these resources you brought to us. Thanks! " Xen, from Dubai
Email or call us.
Call us to schedule a complimentary 20 minute consultation,
call Joanie today @ (508) 947-2750
email: jw(at)joanwinberg(dot)com
Or Call Dr. Dee@ (770)875-9599
email: drdee(at)betterthanevercommunity(dot)com
Be part of our team.
Together everyone can achieve miracles.
You can make a difference.
For more information go to: http://www.freshstartafterdivorce.com/public/department157.cfm