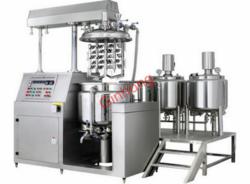 Jinhu, Jiangsu Province (PRWEB) May 01, 2012
The China based company, Ginhong has been a premier mixer company for many years. They provide a worldwide customer base with various types of homogenizer machines and equipment. Customers from Congo were looking for a vacuum homogenizer mixer that can be used to make mayonnaise. Testing continues to find a homogenizing machine which can successfully complete the desired task.
Ginhong will be testing a smaller version of the RX vacuum homogenizer in their first experiment. These homogenizer machines are generally used to mix cosmetic creams and lotions. But it will be tested to see if the mechanism can also handle making mayonnaise for the Congo customers. The hope is that the machine will be able to make the new product satisfactorily, or with some simple adjustments.
If the homogenizer machine test is satisfactory then the company will immediately begin making larger machines to fill the order for the African factory. Should the mixer fail the initial tests, then it will still be fully functional for making cosmetic creams and lotions.
Ginhong has a full line of mixers, machines, tanks and vessels. Simply visit their website http://www.ginhong.com/ to view the various homogenizer machines that the company has available to meet both domestic and international needs for mixers.
About Ginhong
Ginhong is a Chinese company which was founded in Jinhu, Jiangsu Province. Since the company's inception it has continued to gain worldwide popularity and grow beyond its small beginnings. The company is a cutting edge company which meets the demand for homogenizer machines around the globe. Ginhong continues to design, engineer and manufacture various types of high shear mixers. The company's work is compliant with standards that are adapted internationally and they are a government certified company. They literally have satisfied customers from all around the world. To find out more information about this growing company visit the company website http://www.ginhong.com/.