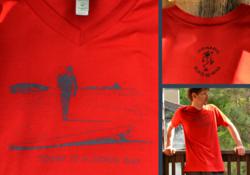 Fayetteville, NC (PRWEB) May 01, 2012
A winter spent surfing in Central America relaxing in the winter weather and surfing when the urge came and the water called was an inspiration for the folks at Nomadic State of Mind. After the recent release of several new sandal styles and color combinations, the grassroots sandal company based in North Carolina has just introduced a new t-shirt design as well as the addition of a rash guard to their apparel collection, both influenced by that time on the water.
The t-shirt is 100% organic cotton, sewn and grown in the US and available in red. The design is a custom photo print, like others in their apparel collection, taken on the road while enjoying the Nomadic lifestyle.
Many years have been spent in the water for the Nomadic crew, whether on a board, boat or just floating around. Finally they have decided to put their expertise use picking the best super soft lycra, made in the U.S., athletic snug fit rash guard available with UV protection so you may surf tomorrow if you surfed today.
Both items are currently available on their website along with numerous other products including their traditional handmade rope sandals that the company is known for. The company can also be seen at numerous festivals this summer including Bonnaroo, Hangout Music Fest and Gathering of the Vibes.
About Nomadic State of Mind
Nomadic State of Mind was founded nearly ten years ago and is based in North Carolina. Manufacturing takes place both in Florida and in Nicaragua where the company has helped support a small community for the past eight years. Nomadic has always believed in positive contributions to the world around them and is committed to remaining true to their roots. For more information or additional art work please contact Chris Anderson or Shea McNally at 877-666-2376 or http://www.nomadicstate.com.