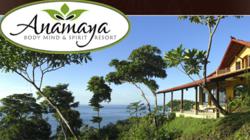 For Anamaya it's about feeding their guests, supporting the local community, and creating an educational environment.
Montezuma, Costa Rica (PRWEB) May 01, 2012
Anamaya Resort and Retreat Center is located in the small beach town called Montezuma, which is known as having a large community of artists, yogis, surfers, and environmentalists among expats as well as the ticos of Costa Rica. Anamaya is well known for their week-long yoga retreats and surfing camps. Their guests enjoy 3 organic and healthy meals per day with all their Yoga Retreats. Yoga Teacher Trainings are also becoming extremely popular at Anamaya and over the past few years they've had to quadruple the amount of trainings they offer in order to keep up with demand. These Yoga Teacher Trainings last usually 4 weeks long and also involve feeding a large and very hungry group of yogis throughout that month.
Recently Anamaya purchased 5000m2 of land to create a Permaculture Center. Permaculture meaning two things; the first is that it's permanent and the second is that it's about agriculture. It's about using the natural resources to create a balanced system that's sustainable. For some people it could be an organic household vegetable garden, but for Anamaya it's about feeding their guests, supporting the local community, and creating an educational environment.
This land is approximately 15 minutes inland from the actual resort and they have planted over 100 exotic fruit trees thus far. The fruit trees are planted along side a nurse banana plant that provides a little shade, some mulch, and of course the bananas themselves. Every fruit tree is also planted with a madera negro tree which provides afternoon shade, but also has an added benefit of being a bug repellant. Madera Negra trees are also the best wood in the area for construction. They are one of the only types of wood that can be used without any treatment and they won't rot or get destroyed by termites. All of these trees have a number of ground-cover plant species surrounding them to help keep in moisture. Currently they are also building a large shade structure for growing vegetables, greens, and other plants that can't take direct sunlight. The shade structure also acts as a barrier to keep sensitive plants safe from heavy rainfall.
Something else that is very important to a permaculture center is that no chemical fertilizers are used. Anamaya uses the kitchen scraps from their restaurant and gallinasa, which is a mixture of rice hulls and chicken poop that they purchase from local chicken farms. Geoff McCabe, Co-Owner and CEO of Anamaya, says, "We're looking for volunteers who want to work on novel growing techniques for the tropical dry forest climate, which is one of the rarest climate types in the world, so it's definitely a challenge."
Cultivating your own food sounds much easier then it is – or maybe it doesn't, but one thing is for certain, the long-term benefits are immeasurable. If you ever find yourself in Costa Rica for a Yoga Retreat or a beach vacation, then a trip to Anamaya should be on your must-do list in order to experience not only the best view in the area, but also the best food. It may now be trendy for Hotels and Resorts to grow their own food, but it's definitely a trend in the right direction.
Contact:
Kelsey Matheson-McCord
Vice President/Co-Owner
Anamaya Resort & Retreat Center
kelsey(at)anamayaresort(dot)com
http://www.anamayaresort.com