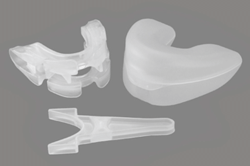 New York, NY (PRWEB) May 29, 2012
The VitalSleep Snoring Mouthpiece is now being offered to dentists as a solution to snoring for their patients. More dentists recommending snoring aids to combat lack of sleep associated with the mouth and jaw. These products are now becoming a value supplement to dental care for their patients. Lack of quality sleep increases can other health factors. A snoring aid such as the VitalSleep snore guard can be an effective remedy to snoring.
One of the other factors that has been shown to have an affect on sleep has been snoring. A partner of a snorer, may create ways to sleep more soundly. This leads to many problems including not sleeping well, crankiness, and a loss of passion in the bedroom.
Sleeping too little puts people at significantly higher risk of stroke, heart attack and congestive heart failure. On the other hand, people who sleep too much have a higher prevalence of chest pain (angina) and coronary artery disease, a narrowing of the blood vessels that supply the heart with blood and oxygen.
Insufficient sleep is linked to a hyperactive nervous system, glucose intolerance, diabetes, inflammation and a rise in stress hormones, blood pressure and resting heart rate, the researchers noted. Lack of sleep can also cause an increase in the risk for diabetes and high blood pressure and increases obesity factors. A lack of sleep can also have an effect on young children. Young infants tend to mimic their mother's emotional state, and if a mom is not getting adequate rest then this could have a negative impact on the infant's sleep pattern. Imagine a mom with a husband who snores and having to take care of a baby during the day. She is exhausted trying to keep it all together. Her entire family is now affected by her husband's snoring. Some may think snoring is a great joke at parties but when you are on the other side of the grass with the snorer, it is not so funny.
Currently the Snore Reliever Company LLC has a FDA cleared product that can help their customers with snoring. The product was created by a constant snorer. With the help of a medical doctor, the VitalSleep dental mouthpiece product was born. It is making a difference for snorers and their families. The product is flexible BPA free mouthpiece that a person would put in their mouth before they went to bed. It significantly reduces snoring so much that breathing is greatly improved as a result. The VitalSleep snoring mouthpiece is being offered to dental practices around the country. Although snoring problems tend to be viewed by ear, nose and throat doctors, dentists are now offering snoring aids as a valid treatment to their patient's snoring problems. Patients suffering from snoring can now ask their dentist or doctor for more information about VitalSleep.