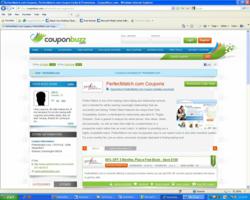 PerfectMatch.com has done a great job of branding themselves as both 'current and hip,' and an effective dating service
Houston, TX (PRWEB) May 01, 2012
CouponBuzz.com is currently featuring several PerfectMatch.com coupons that are geared toward attracting new users to the internet dating and relationship service company. Individuals can utilize special offers like 50% off the first month of enrollment, or a $9.99 five-day trial. Offering valuable coupons is one of the key strategies that PerfectMatch.com uses to attract new users and keep its database full of fresh new faces. In addition to utilizing coupons and affiliate marketers like CouponBuzz.com, PerfectMatch.com also generates interest in their product via high profile placement in television shows and films.
For example, the popular 2005 summer film "Must Love Dogs," starred Diane Lane and John Cusack as an unlikely romantic couple who met on PerfectMatch.com. PerfectMatch.com also had a brief cameo appearance in the 2009 film Paul Blart: Mall Cop, starring comedian Kevin James. But their non-traditional partnership with the entertainment industry does not stop at the silver screen. PerfectMatch.com also utilizes the television industry to reach unprecedented numbers of potential customers.
In 2007, NBC Television ran a special called "The Science of Love: A Modern Dating Experiment," in which PerfectMatch.com's Duet Total Compatibility System was featured, along with the site relationship specialist, Dr. Pepper Schwartz. In 2005 PerfectMatch.com was the online dating service showcased in a "Live with Regis and Kelly" effort to match the shows Production Coordinator with a real life romance. The 2008 season of "Dancing with the Stars" featured an analysis of the partnerships by PerfectMatch.com. And fans of "How I Met Your Mother" might recognize the PerfectMatch as being the organizer of the fall 2005 first season kickoff, which featured a matching game of the shows characters based on the Duet system. Perhaps most impressive, as far as results are concerned, is the 2005 Valentine's Day special where PerfectMatch.com was featured on the "Dr. Phil Show." Reportedly, 207,000 women joined the site that same day.
"PerfectMatch.com has proven their expertise in approaching advertising and marketing in non-traditional ways," said Justin Bowen, a spokesperson for CouponBuzz.com. "We are finding that featuring PerfectMatch.com coupons on a dedicated web page is a great source of attracting internet traffic to our site. PerfectMatch.com has done a great job of branding themselves as both 'current and hip' AND an effective dating service."
Based in Seattle, Washington, PerfectMatch.com bills themselves and their website services as "the best approach for adults seeking successful, lasting relationships." By creating a dedicated web page for PerfectMatch.com coupon codes and special offers, CouponBuzz.com taps into the marketing genius that walks the corporate hallways of this particular company. All of the current available PerfectMatch.com coupons, along with information about how to access and utilize them most effectively, can be found in CouponBuzz.com's new PerfectMatch section, http://couponbuzz.com/perfectmatch.com-coupons.html