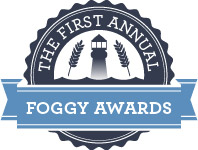 Find Me Gluten Free and The FOGGY Awards are the epicenter of the gluten-free community. -Mark Cuban
Austin, TX (PRWEB) May 02, 2012
Find Me Gluten Free, the most downloaded gluten-free restaurant and business finder app for iPhone and Android, today announced the winners of the http://www.foggyawards.com. This is the first-ever awards program given to those influential leaders and industry-makers who shine light on the Celiac Disease and Gluten-Free Communities.
"The FOGGY Awards and Find Me Gluten Free are the epicenter of the gluten-free world and Naked Pizza is proud to do our part in being a title sponsor," says Mark Cuban, partner with Naked Pizza.
The name of the Naked Pizza FOGGY Awards and its memorable logo, a lighthouse, are known for providing light to people navigating through the ocean, especially when it is "FOGGY." The chosen name is significant to anyone with Celiac Disease, as most often "FOGGY brain" is a major symptom of the autoimmune disorder, which occurs when a person accidentally ingests gluten.
"The Naked Pizza FOGGY Awards were created out of a need to shine light on the individuals in the gluten-free industry," says Darin Alpert, COO of Find Me Gluten Free and creator of the Naked Pizza FOGGY Awards. "There are some great nominees with incredible stories about what they are doing in the realm of Celiac Disease and gluten-free living, and the world needs to know about them. Having Mark Cuban and Naked Pizza on board will bring more awareness to the gluten-free community."
The public can vote for the nominee(s) of their choice in the following categories; Male Executive of the Year, Female Executive of the Year, Lifetime Achievement Award (to be renamed after first recipient), Personality of the Year, Entrepreneur of the Year, Gluten-Free Doctor of the Year, and the Top 40 Under Age 40. Nominations in 2013 will be open for voters to nominate their own specific participants. See the 2012 Winners.
Visit the FOGGY Awards for more information. Learn more about Find Me Gluten Free or download the free iPhone and Android apps. You can follow us on Facebook and Twitter as well. For great gluten-free pizza, check out Naked Pizza.