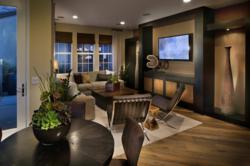 Sago's price point is really attractive to buyers given its specific location within Carlsbad.
CARLSBAD, Calif. (PRWEB) May 01, 2012
As a result of continued sales success, Brookfield has released its third phase of homes at Sago at The Foothills in Carlsbad. Since Sago's grand opening on March 10, the community of detached, two-story homes has had an average of one new home sale per week. Including phase three, eight homes are now available for sale.
"March was a strong sales month for homes in San Diego County, and was Brookfield San Diego's best sales month in 30 months," says Debby King, director of marketing for Brookfield Homes. "Sales success is also the case at our newest community, Sago."
Homes at Sago range from approximately 1,750 to 2,050 square feet with three to four bedrooms and 2.5 to three baths. Sago has four floor plans to choose from, all of which include courtyards for outdoor living space. Residences also include granite kitchen countertops, stainless steel appliances and a security system. Priced from $461,900, Sago offers some of the most affordable new homes in Carlsbad.
"Sago's price point is really attractive to buyers given its specific location within Carlsbad," adds King.
Located less than three miles from the coast, Sago residents have the luxury of visiting the beach or staying home to enjoy the amenities within their master-planned community, The Foothills. All Sago homeowners have access to The Foothills' Swim Club, equipped with a pool, paddle tennis courts, fireplace, barbecue and more. Sago homeowners will also have access to a new high school across the street from The Foothills, which is set to open in fall 2013.
For more information, call (800) 610-8858 or visit Sago's three model homes, which showcase contemporary and efficient living spaces and outdoor courtyards. The model homes are located at 3595 Glen Ave. in Carlsbad.
Driven by passion, integrity and community, Brookfield offers top-rated homes to residents throughout San Diego County. To join the Sago interest list or to learn about one of Brookfield's other San Diego communities, visit http://www.BrookfieldSD.com.
About Brookfield Homes
Brookfield Homes currently builds new homes in San Diego in the master-planned communities of The Foothills in Carlsbad, Windingwalk in Chula Vista, Stonebridge Estates east of Scripps Ranch in San Diego, and Old Creek Ranch new homes in San Marcos. The company also has significant land holdings in Riverside County. For more information about Brookfield communities, visit http://www.brookfieldsd.com.
Brookfield Homes San Diego/Riverside is a homebuilding member of Brookfield Residential Properties, Inc. – a North American land developer and homebuilder, active in 10 principal markets. Brookfield Residential Properties Inc. entitles and develops land and builds homes for our own communities, as well as sells lots to third-party builders. Brookfield Residential Properties Inc. is co-listed on the New York and Toronto Stock Exchanges under the symbol BRP.