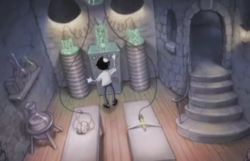 Animated video marketing is one of the most powerful tools to compel website visitors
Saint George, UT (PRWEB) May 02, 2012
Animated videos have already shown amazing conversion rates with many animated marketing video companies, which is why Ydraw has announced their new release of services providing companies with not only whiteboard animation and video scribing videos, but animation videos as well.
According to Kevin Byrd in "Video Postcard Marketing", online video animation can reach an amazingly large audience for a minimal investment that can make each ROI astounding. These animated videos work best as a marketing strategy to announce to the world a new business product or service. Byrd explains how "what [one] sells and promotes is not only the product or service, but more importantly, [oneself]". Animated video marketing is one of the most powerful tools to compel website visitors to dwell on a website page, search through the business website, and is in most cases the first place website visitors will go when clicking on a new company website and wanting to learn more.
"The potential for success with an internet video marketing campaign is virtually limitless", states Byrd. Every marketing video should reflect the featured company in a professional and sophisticated way, and should be of the highest quality and have the best entertainment details. As Ydraw has seen amazing success in their video scribing and doodle videos, they are certain that their new animation videos will have a huge impact on companies everywhere.
The edge that Ydraw provides in their animated videos is that of a team of highly talented professional artists, many who have previously worked for Disney With these professionals on the Ydraw team, as well as a group of creative brains that are always interested in making the client satisfied with the overall result, Ydraw has a great record of providing great services and value in every video they create, rising to the top of video scribing video companies, and now geared to rise to the top of animated video companies.