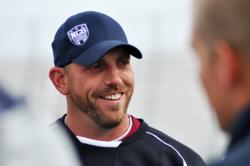 David Brader is an excellent kicking coach. I've worked with him at a number of events including the Aguiar / Husted Pro Camp. I'm looking forward to working with him this year on NCS events. Michael Husted
San Diego, CA (PRWEB) May 01, 2012
Husted Kicking, featuring retired NFL punter David Brader, will kick off its' 2012 National Camp Series (NCS) Season evaluation event in St Louis, MO on May 5, 2012.
As a three sport athlete in high school Brader had the opportunity to pursue basketball, baseball or football at the collegiate level. Brader decided to play baseball and football at Southwest Missouri State University in Springfield, MO.
Brader began fine tuning his punting skills and signed an NFL contract with the Jacksonville Jaguars in 2005 before a career ending injury forced him to the sideline in 2006. Since the injury, Brader's focus has been on coaching the kicking game and he has coached with former NFL players Louie Aguiar and Michael Husted at their annual Pro Camp since 2006.
Along with coaching with Aguiar and Husted, Brader has coached numerous kickers and punters and athletes from University of Texas, University of Wisconsin, Kansas University, University of Iowa, St. Ambrose College, University of Missouri, Lindenwood University and Missouri State.
Kicking Coach Michael Husted, who created the National Camp Series (NCS) after kicking in the NFL for 9 years, says he is excited about the NCS season starting again so soon after a very successful NCS Super Camp in Orlando, Florida in February.
"2012 is shaping up to be the best year yet for the National Camp Series," says Husted. "After a strong 2011, and having introduced our Kicking IndeX (KIX) Player Rating System, we are positioned extremely well to leverage analytics to showcase our athletes, and to provide 'objective high school kicking specialists statistics' to college and university coaches."
Husted says that by utilizing its Kicking IndeX (KIX) Player Rating System, NCS provides an objective evaluation platform for student-athletes who want to showcase their capabilities to colleges and universities for recruiting purposes.
By sorting through over six years of historical event data, the KIX system determines a kicker's rankings by cross-referencing player data to determine how the athletes stack up against others, both presently and historically.
"The NCS levels the playing field for those who don't want to get caught up in all of the 'politics' that occurs in the kicking industry," says Husted. "If you can kick, punt or snap, the NCS KIX system will let a young kicking specialist's skills speak for themselves. No excuses. No explanations."
Husted adds the NCS is not just about player rankings, but quality coaching as well.
"NCS Associates are some of the best kicking coaches in the country," says Husted. "NCS coaches provide the highest quality instruction to high school kicking specialists around the country."
Husted says he is very happy to have a coach like David Brader as part of the NCS team.
"David Brader is an excellent kicking coach," says Husted. "I've worked with him at a number of events including the Aguiar / Husted Pro Camp. I'm looking forward to working with him this year on NCS events."
Click here for more information about the Husted Kicking NCS evaluation event being held in St. Louis, MO on May 5, 2012.
Click here for more information about the National Camp Series and the dates and location of upcoming NCS events.