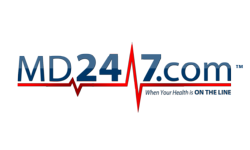 Visit the MD247 blog http://md247.com/md247-blog.html.
St. Petersburg, FL (PRWEB) May 01, 2012
Telemedicine provider MD247 announced on Tuesday that it would begin issuing a series of blog articles discussing the abrupt technological advances in the field of telemedicine.
Each article by MD247 will review evolution within the field of telemedicine; positive impact resulting for those seeking medical help via telemedicine and the reality that telemedicine can treat everything from allergies to sunburn. Barbers once learned the art of surgery, antibiotics were eventually released on a wide scale for the treatment of infections caused by bacteria and then medicine hit warp speed with technological advances. With current smart phone technology it is possible to monitor everything from a heart healthy diet to actual blood oxygen saturation level, all with the use of telemedicine applications simple enough for the masses to use. These telemedicine applications, as well as other products more specific to the healthcare industry, allow doctor and patient alike an affordable and expedient method by which to stay in frequent contact using telemedicine. MD247 is prepared to serve as a guide into what will be the future of telemedicine worldwide.
MD247 recommends that readers frequently visit the MD247.COM blog to learn more about telemedicine, and dispel fears of scams or ripoffs. Articles will periodically include MD247 customer product experience, telemedicine industry advances and even an occasional letter from the founder of the telemedicine provider.
Seminole Florida based MD247 (MD 247; MD/247; M.D. 247; MD247.COM) provides discounted telemedicine healthcare services nationwide to families, and discounted wholesale telemedicine healthcare to businesses. MD247 has successfully provided 25,000 people the ability to talk to a doctor twenty-four hours a day, talk to a nurse twenty-four hours a day, receive discounted prescription drugs and receive discounted in-person healthcare services. In addition to discounted healthcare services, MD247 provides support to groups supporting the employment of veterans of the United States Armed Services. MD247 services, as well as informational blogs, can be found for review online at http://www.md247.com.