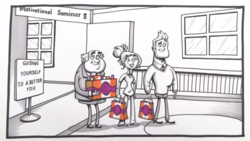 pictures are worth a thousand words, but videos are worth a million
Saint George, UT (PRWEB) May 21, 2012
Whiteboard animation videos are increasingly successful in helping Ydraw with their social media efforts around the web. Unlike other video marketing strategies, Ydraw's whiteboard animation videos connect with viewers in a way that will promote devoted social media followers.
With whiteboard animation videos, Ydraw has seen the engagement of the viewer, or the time span that the viewer watches the videos, to be much longer than that of other videos. This animation technique consistently has shown a great impact on viewers and the dwell rate of how long they will view a video on YouTube or Vimeo.
As stated by an interviewed source in ReelSEO, "pictures are worth a thousand words, but videos are worth a million". Videos, specifically whiteboard animation videos, add a personal touch that is not seen anywhere else in video. The viewer actually gets to watch artwork come to life before their eyes, as they are taken through the whole process of the development of such intricate animations and illustrations. This will then develop a sense of engagement and connection in the viewer, inviting them to watch more and more of the video. Most viewers of Ydraw videos find they look forward to watching future videos, as whiteboard animation videos are mesmerizing in all ways.
Alecsy Christensen