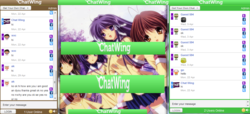 St. Louis, MO (PRWEB) May 01, 2012
It is evident that Anime is still one of the strongest niches of today. This has been proven by noting how many websites were being dedicated to the usual pursuit of Anime gratification. Because of the strength of such niche, the developers of Chatwing have decided to branch out and create an overhaul for their chat box. The Chatwing blog chat tool is now built for global connection chatrooms and is meant to deliver a new chatting experience.
Chatwing may appear as a simple widget that anyone can discover in the World Wide Web. However, simplicity has been one of Chatwing's strongest factors ever since. Statistics have made it clear that people doesn't like applications with complicated mechanics. Since Chatwing is meant to be straightforward, it has attracted a lot of attention ever since it was released. Now, with its latest upgrade, Chatwing is ready to branch out to various online communities.
Chatwing's versatility has also reached Anime writers from different parts of the world. Aspiring Anime writers use the Chatwing shout box to connect to others and get some tips and ideas. Anime bloggers have also seen the importance of Chatwing for their blogs. One of the best features of Chatwing is Facebook and Twitter integration. Through these social networking sites, information exchange becomes a lot easier. This is another reason why some Anime fans are using the Chatwing widget to find more Facebook friends and groups.
The installation process for Chatwing's free chatroom tool is relatively easy. The user must register his blog's domain name. After that, he must set up an official Chatwing account. Customization is the next step. The user will now get the opportunity to modify the appearance of his widget. He can change the height, width, color, and title of the widget. With these steps complete, the Chatwing website chat will now generate the HTML code necessary for embedding. Usually, the widget will go live in under few seconds.
To liven up conversations, people can now use avatar displays and emoticons. Also, anyone can check out the updates in Chatwing's Facebook page. The page is always updated with fresh and useful content.
About Chatwing
Chatwing.com has developed live chat software for websites and blogs. It caters to different online communities due to its high rate of connectivity. The Chatwing.com website allows everyone to signup and create a customizable live chat box feature in 1 minute or less. Users have the ability to customize the size, color, and fonts of the chat product. The ability to chat via social media accounts such as Facebook and Twitter enable Chatwing to offer a personal and unique real-time experience to all sites. Chatwing is 100% free and very easy to use.