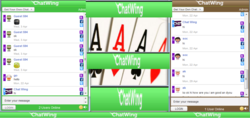 Las Vegas, NV (PRWEB) May 01, 2012
Based on the websites dedicated for the pursuit of poker, it is evident that it is still one of the hottest card games around. Each Poker community has over thousands of players, and it is still growing by the minute. The popularity of Poker never missed the attention of Chatwing's developers. That is why they branched out to poker communities by creating a chat box meant for efficient communication.
Poker may be a game of luck, as others may say, but the tips circulating around it are based on scientific law of percentages. These tips come from players who have hardcore experiences when it comes to playing Poker, whether online or not. Michael Diamond, one of Chatwing's elite developers, has realized that an effective website chat tool can really make the difference when it comes to Poker talk.
"In this case, Chatwing will be a beginning player's sea bet. Because the widget deals in real-time communication, the beginner will now be able to gather tips from the pros. In just seconds, the beginner will have the best tips of his life," Commented by Michael Diamond regarding Chatwing's expansion to Poker websites. Some Poker bloggers were also seeing the importance of an advanced shout box for their blogs. Bloggers who used Chatwing have seen moderate improvements in their online presence.
Installing Chatwing for any blog is relatively easy. The user just needs to register his blog or website's domain name. After that, he can now move to customization. In this part, he can change the size, color, and title of the widget. After completing everything, Chatwing will now generate the needed HTML code. The embedding process takes only a few seconds.
One of the best features of Chatwing is the Facebook integration option. Through this, guests and visitors can now log in to chatrooms using their Facebook accounts, easing up personal information exchange. According to a short survey done by Chatwing staff, this feature is the one responsible for the continuous sign-ups. In turn, these sign-ups have contributed to Chatwing's stable ranking.
About Chatwing.com
Chatwing.com has developed live chat software for websites and blogs. It caters to different online communities due to its high rate of connectivity. The Chatwing.com website allows everyone to signup and create a customizable live chat box feature in 1 minute or less. Users have the ability to customize the size, color, and fonts of the chat product. The ability to chat via social media accounts such as Facebook and Twitter enable Chatwing to offer a personal and unique real-time experience to all sites. Chatwing is 100% free and very easy to use.