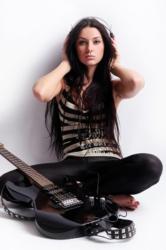 It was great fun to see all ur models and actors having a really fantastic time
London, UK May 1st 2012 (PRWEB UK) 1 May 2012
A new pop sensation and a model entourage, Lucien Laviscount asks for La Mode help and gains a video with star appeal.
When the modelling advice specialists at La Mode London were asked to supply some glamorous guys and gals to support a new recording artist, they were more than delighted to oblige. The brand new video by Lucien Laviscount, the star of Coronation Street and Waterloo Road, has just been launched and is now available to download from iTunes. With the help from some very glamorous models supplied by the commercial photography company
http://www.lamodelondon.com, the video has a very sexy and glamorous story to tell.
Lucien Laviscount, 19, is a British actor and recording artist best known for his portrayal of Jonah Kirby in the popular BBC1 drama, Waterloo Road. His debut single 'Dance with You,' made with US hip-hop artist Mann, was released late April 2012, and features a bevy of beauties, supplied by the model advice agency.
Lucien looks amazing in the video alongside the model extras supplied by La Mode and the video is a visual delight with an unusual story told along the way.
Known as religious swimmer Ben Richardson in Coronation Street, as well as having made several appearances in Shameless, New Tricks, Casualty, Grange Hill and Clocking Off, Lucien is more famous recently for showing off his sexy physique as a housemate in Channel 5's Celebrity Big Brother 2011. He lasted until the final week, finishing fifth and flirted with fellow housemates Amy Childs and Kerry Katona. He was torn between the two which culminated in 'Bed gate', where he was filmed, sharing a bed with Childs after a drunken party. Also known for his charity work, Lucien took part in a charity football match alongside other actors in aid of Sport Relief.
The video for the new single was shot in Gilgamesh nightclub in London and La Mode provided all the extras. The video also includes the boy band Blue, Matt D'Angelo , Ironic, as well as Ashley Walters and Geoff Bell.
'It was great fun to see all our models and actors having a really fantastic time', says Helen Smith, director at La Mode London.' It goes to show we never know what's going to happen next at our model advice and photography studio. It's never dull, that's for sure!' She goes on to explain,' we have worked with the boys from Blue before but it was a real privilege to get to know Lucien and his famous actor friends. It really gave our models a chance to have fun, but also showcase their stunning looks and personalities. A music video is a great way to show off model potential instead of simply relying on static photographs.'
Copies of the single can be downloaded from ITunes or visit http://www.lamodelondon.com for more details.