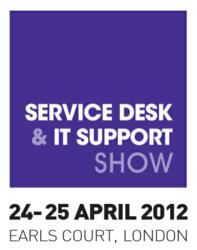 72% of exhibitors have already rebooked for next year's show!
(PRWEB) May 01, 2012
London, UK: Diversified Business Communications UK has reported a sizeable 13% increase in visitors for last month's Service Desk & IT Support Show. The two-day show at Earls Court, London, attracted 4,495 ITSM and IT support professionals from thousands of leading UK and European business organisations over 24-25 April 2012.
Whilst this was the 18th annual Service Desk & IT Support Show, it was the first to be hosted by its new owner Diversified Business Communications.
"We really couldn't have wished for a better event," comments Diversified UK's managing director Carsten Holm. "Integrating established shows and their teams into a new company is always a huge challenge – or, well, it is supposed to be! But on this occasion, the integration of Service Desk & IT Support Show has been virtually seamless and actually, rather than a challenging, delicate exercise, it's been fun and a positive development for the future of this essential industry event."
"The reaction to the show this year has been incredible," says event manager Laura Venables. "Visitors gathered in their thousands and the 'buzz' on the show floor was unmistakable! Seminars were absolutely full-to-the-brim, stands were notably slicker and smarter, and exhibition teams were confident, proactive and always ready to greet our visitors. The Service Desk & IT Support Show truly is the biggest and best platform for uniting this industry and this year there was a genuine sense of one community coming together to connect, support, share and learn from each other. From visitors to exhibitors, from sponsors to speakers, everybody gained real value from being involved and we're delighted that it was a complete success."
Firmly established as the UK's leading event for IT service and support professionals, this year's Service Desk & IT Support Show (SITS) was packed with thousands of highly-focused and informed visitors looking to source the latest solutions from some of this industry's leading specialist vendors, integrators, consultancies and service providers. Visitor numbers aside, it was also the quality of the visitors that impressed countless exhibitors. As a result, an incredible 72% of exhibitors have already rebooked for next year's show.
"We've been exhibiting at the Service Desk & IT Support Show for six years but over the last year the event has really come into its own," says Koby Amedume, marketing director at Kaseya International. "The quality of the attendees and the conversations we are still having has made the investment worthwhile."
"It was a fantastic event," says Tessa Troubridge, managing director of the Service Desk Institute. "We had a fabulous two days of extremely engaging conversations with both new and existing customers alike. Everyone we spoke to had visited the show for a specific purpose and there was a real sense of focus and drive from this year's visitors. We can't wait to come back next year!"
Like many exhibitors, Sunrise Software's on stand trainers were busy throughout the two-day show hosting product demonstrations to a "knowledgeable audience" of attendees: "We felt there was a real energy at the show this year. A knowledgeable, informed audience was well served by an enthusiastic vendor community that worked tirelessly to make the event succeed, both individually and collectively," says sales director Geoff Rees.
Alemba Limited was equally upbeat, having enjoyed a "very successful show". Citing "amazing feedback", Mita Morris, the company's marketing manager praised the event's "vibrant, exciting and buzzing atmosphere".
Given the growing prevalence of social media and the use of user-owned devices (BYOD) within today's businesses, both 'mobile' and 'social' featured prominently in conversations throughout the event. From the event's first Breakfast Briefing: 'Empowering People on the Move', which was based on exclusive White Paper findings by Cherwell Software and the Service Desk Institute (SDI), to the record-breaking 1,000 plus #SDITS12 Tweets being splashed across the Hornbill Service Management sponsored Twitter screens – this year's show was very much a forum for an exchange of thought-provoking ideas on the future role of the traditional IT service desk.
"New trends are affecting IT service delivery all the time – from users wanting to bring in their own devices through to demands for support over multiple channels, the service desk is faced with challenges and opportunities around delivering value. Looking at the process layer helps ITSM meet these evolving needs head on both now and in the future," commented Frederic Richer, EMEA marketing director, Serena Software (sponsor of the event's three seminar theatres). "During this year's Service Desk & IT Support Show we have seen a huge amount of interest in how organisations can apply best practices around management and building better processes. The event itself continues to grow in importance as IT organisations consider how to manage and orchestrate their IT resources across operations, development and support."
Whilst new products and software applications remained a practical draw for many visitors to the show, the exceptional show content – including six Keynotes (in association with Ovum), 40 seminars, two Breakfast Briefings, and 24 Hot Topic Roundtable discussions – offered a host of aspirational solutions to the key issues and challenges affecting today's ITSM and IT support community. With many sessions enjoying standing room only crowds, notable highlights for 2012 included ServiceNow's Chris Dancy discussing emerging technologies in 'Cloud, Mobility and the Coming Singularity'; a popular BACK2ITSM presentation and podcast discussion promoting the principle of 'shared practice', 'Lean, mean IT machine' presented by Roy Illsley from Ovum; and IT support consultant Noel Bruton talking about new support methods for BYOD in 'Why & how we must support users own tech'.
"The UK's IT user support industry needs the Service Desk & IT Support Show to be successful, as the annual event has always been at the heart of this industry. It always delivers and this year was no exception, with the show's transition to new management passing seamlessly," comments Bruton. "As a speaker, I was gratified to see all my presentations packed to the doors, testifying to Diversified's ability to attract the right audience. It was also good to see how some of the vendors are now seriously innovating – I suspect that Diversified may have on its hands a show to take the UK's IT user support industry into a new era."
"It doesn't matter how long you've been in the industry – you'll never know everything," adds visitor Nina Pink, IT service manager at Dairy Crest. "The show is a great forum to pick up hints and tips on how to continue improving the services our customers expect."
The Service Desk & IT Support Show (SITS) returns to Earls Court, London, on 23-24 April 2013. For more information, please visit http://www.servicedeskshow.com.
Media enquiries to: Emma-Louise Jones, PR Manager
t: +44 (0)1273 645134 e: ejones(at)divcom.co.uk
http://www.twitter.com/DiversifiedUK
http://www.divcom.co.uk
Exhibitor enquiries to: Laura Venables, Event Manager
t: +44 (0)1273 645138 e: lvenables(at)divcom.co.uk
http://www.twitter.com/SDITS
http://www.servicedeskshow.com
Notes:

Diversified Business Communications UK Ltd (Diversified UK) is a fast growing trade event organiser and publisher based in Brighton. In addition to the Service Desk & IT Support Show, Diversified UK's portfolio includes Natural & Organic Products Europe, Natural Products Scandinavia, lunch!, camexpo, office*, office INTERIORS, Natural Products magazine and the Natural Beauty Yearbook.
Diversified UK is part of Diversified Business Communications, a leading international media company with a successful portfolio of sector leading exhibition, conferences, publications and websites.