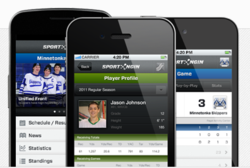 "We've empowered teams to connect with their players and fans like never before...Now we're putting that community in your pocket."
Minneapolis, MN (PRWEB) May 01, 2012
TST Media today announced the availability of its new "Sport Ngin Mobile" app in the Apple iTunes App Store. Sport Ngin (pronounced "Sport Engine") is TST's powerful, elegantly designed platform used by sports teams and leagues in all 50 states, all five Canadian provinces, and several countries in Europe and Asia. The new Sport Ngin Mobile companion app is for Apple iOS devices and is a free download that enables any user to follow a favorite team. For $3.99 per year, the user can follow an unlimited number of teams in the Sport Ngin system. The app is available at http://itunes.apple.com/us/app/sport-ngin/id499597400?mt=8 and has already reached the Top 10 of all sports apps in the App Store based on number of downloads.
"Personal interaction between coaches, players, parents, and fans is at the core of every sports organization, league, or tournament. We're extremely proud to announce the new Sport Ngin Mobile app. Our rapidly growing, worldwide user base is hungry for it," said Justin Kaufenberg, TST Media CEO and cofounder. "Since 2004, we've empowered more than 80,000 teams to connect with their players and fans online like never before. Millions of photos, comments, stats, and live scores have helped build a vibrant community online via our Sport Ngin platform. Now we're putting that community in your pocket."
More than 4.3 million users per month use the Sport Ngin web platform. The new app lets anyone, whether an existing user of the platform or not, to:

Follow all their favorite Sport Ngin-powered teams within a single app.
Keep up with the latest schedules, results, news, and statistics.
Post team messages and announcements.
Share photos and videos right from the game!
Enjoy rosters and player profiles, complete with game-by-game statistics.
Comment on events, articles, photos, and videos.
View current standings and team statistics.
And it's compatible with "Sport Ngin Live" scoring applications for real-time play-by-play publishing.
Customer Reaction
"I love that I can follow every team in our league using just one application. It makes it easier to find where I need to be and when I need to be there," said Brandon Kurz, Owner, Long Island Whalers, Baseball Player Magazine. "It also helps us get our messages out in a presentable manner. Our organizations are buzzing over the Sport Ngin Mobile app."
TST Media developed the Sport Ngin Mobile app because it was seeing more and more of its users accessing their team web sites using mobile devices. "In the past 30 days, more than 20% of our total traffic for has been via a mobile browser," said Carson Kipfer, TST Media's Chief Visionary Officer and cofounder. "That's double what it was for the same period a year ago." He added that 70% of that mobile traffic has been by users with iOS devices -- thus, the choice to develop the first native app for iOS. "An Android app is now in development," he said.
"With this initial release of the Sport Ngin Mobile app, we've gone to great lengths to leverage the mobile experience to encourage and enhance team communication and sharing," Kipfer added. "We've taken a fresh look at the communication challenges teams face, and designed an intuitive user experience that speaks directly to those challenges. The best part of all is that each Sport Ngin team web page automatically syncs all user permissions, tool settings, data, and content to the new mobile app."
The Sport Ngin platform serves not only teams, but many leagues and federations, and is not limited to amateur youth sports, high school sports, and college sports. An increasing number of semi-pro and professional teams and organizations, such as the Minnesota Swarm lacrosse team, have their sites hosted on the platform. The new mobile app is compatible with all 80,000+ team sites on the company's platform. Users around the world can now access millions of photos, videos, comments, stats, and live scores already on the system via their iPhone or iPod Touch -- and much more content will now be added by users of the mobile app.
About TST Media
TST Media (http://www.tstmedia.com) creates digital tools that empower organizations to engage their audience in meaningful ways. Its highly skilled team specializes in the execution of world-class sports content strategy, design, marketing, and technology. The company was founded in 2004 in a dorm room at UW-EauClaire and is now based in Minneapolis, with an additional office on Madison, Wisconsin. TST Media works to continuously revolutionize the way leagues, teams, players, scouts and fans interact and currently hosts more than 80,000 team web sites. Customers can also take advantage of TST Media's custom design services for unique web sites that build brand awareness and encourage engagement. The company serves many national customers, such as the National Lacrosse League, the Rugby Super League, and the National Sports Center. TST Media announced a Series B round of funding in August 2011 led by El Dorado Ventures of Menlo Park, CA. In February 2012, the company announced its acquisition of the Wisconsin Sports Network. In April 2012, TST Media was named one of the 100 Best Companies to Work For by Minnesota Business magazine.
About Sport Ngin
TST Media is best known as the team behind the NGIN (pronounced "Engine") website platform. NGIN is a proprietary data platform that powers the web presence of teams, leagues, events, and sports organizations and businesses around the world. Engineered by the developers at TST Media, NGIN features a complete suite of powerful tools that help organizations and their audiences connect and interact online. It is the basis for two products (platforms) that TST Media markets to its growing customer base: Sport Ngin (http://sport.ngin.com) and Event Ngin (http://event.ngin.com).
Connect with TST Media on Facebook at http://www.facebook.com/tstmedia and on Twitter @TSTmedia. Connect with Sport Ngin on Facebook at http://www.facebook.com/sportngin and on Twitter @sportngin.
The new Sport Ngin Mobile app can be downloaded for free for iOS devices at http://itunes.apple.com/us/app/sport-ngin/id499597400?mt=8
(Note: All trademarks used herein are the property of their respective owners.)