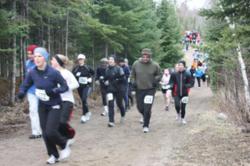 Grand Marais, MN (PRWEB) May 01, 2012
Since its inception, the Ham Run Half-Marathon and 5k Fun Run on Minnesota's Gunflint Trail has been green. It started out as part of the Gunflint Green Up which was born in 2008 in response to the Ham Lake Fire in 2007. The Green Up Festival focused on planting trees in the burned areas of the Gunflint Trail during the Spring green up.
This Sunday, May 6th, marks the 5th Annual Ham Run Half-Marathon and 5k Fun Run. The course travels the path the Ham Lake Fire took in 2007. Race directors pride themselves on offering an eco-sustainable event where being green is more important than winning.
Race organizer Margo Furcht says, "Anyone can put on a race but not everyone can do it with the environment in mind." A typical half-marathon may find thousands of runners on city streets throwing paper cups into the streets. "That's one thing you won't see on the Gunflint Trail," says Margo. "We offer cup-free racing with the use of Hydra Pouches and Hydra Pour valves and people love it."
The folks who organize the Ham Run know how to give the environment first place treatment. Banners, posters, race bibs and more are re-used year after year. Waste is kept to a minimum since race registration and correspondence is all done online. On race day all refuse is sorted, including orange peels, that go into a separate garbage to be composted. Race awards are made from downed birch trees, t-shirts are recycled cotton and shared transportation is promoted.
It's easy to see why the Ham Run Half-Marathon's claim to fame is "The Greenest of them all." Race organizers invite you to find out for yourself during the 5th Annual Ham Run Sunday, May 6th, 2012.