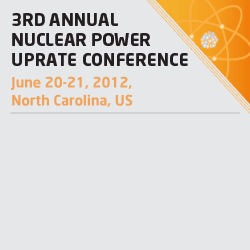 (PRWEB) May 02, 2012
The 3rd Annual Nuclear Power Uprate Conference is set to become the largest ever as the nuclear industry looks to power uprates as the most cost effective way to produce more electricity while reducing carbon emissions. Exelon, the largest nuclear operator in the United States, has estimated a power uprate investment cost of $2.2m-$2.5m per added megawatt, about half that of a new reactor.
Delegates at this year's unparalleled conference will be treated to a unique tour of the new Siemens Energy Turbine and Generator Manufacturing and Service Facility in Charlotte, North Carolina, as well as:

Exclusive insight into the extended power uprate project at E.On's OKG Oskarshamn 3 plant – now the world's largest BWR – so you can develop schedules that save you time and money
Major utility representatives attending from across the USA, including Entergy, Exelon, Duke, Progress Energy, TVA, and many more who can share their knowledge and experience with you to help in your day-to-day work
200+ power uprate decision makers to network with over 2 full days, allowing you to learn and share knowledge with senior industry experts from GE Hitachi, Siemens, Westinghouse, Shaw, Bechtel, Alstom and many more
An expert Training Workshop that will enable your entire team to understand the major technical and procedural requirements behind power uprating
This will be the best chance in 2012 for service providers to meet and network with the major US utilities and vendors that are actively seeking new, innovative and practical solutions to aid their uprate projects. With senior level nuclear business leaders, leading contractors, equipment providers and specialist service companies attending from across North America – can you afford to miss out?
For more information follow: http://www.nuclearenergyinsider.com/uprate/brochure
If you have any questions, please get in touch.