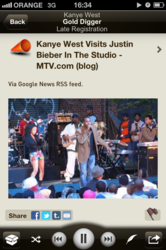 "The right way to do digital."

-David Renzer, former CEO of Universal Music Publishing Group.
(PRWEB) May 15, 2012
The new and critically acclaimed iAlbums mobile application has released its new 1.1 version.
With the new version, out May 14th, iAlbums has added the ability to share interesting items via social networks, 'Stash' items to read later, a brilliant new graphic layout and more content sources, effectively proving that there is more to the mobile, digital music experience than a simple title on a grey line in a playlist. iAlbums brings the color back.
iAlbums provides information about the music being played. The information is taken from different content sources, helping the listener not sit back and just focus on listening, while the app delivers the semantically analyzed content to one seamless feed. In doing so, iAlbums saves the listener the time to go and actively search for information.
The company is now taking submissions from bloggers who wish to feature their posts in the iAlbums feed. By doing so, the content will be exposed to hundreds of thousands of users and by that overcome the problem of content exposure in the [ flood of information around.
The new and critically acclaimed iAlbums mobile application is a new, content based music player that brings listeners relevant and compelling information about the music they are playing. The content is arranged in a seamless feed, semantically analyzed by iAlbums' proprietary "semantic engine" technology, and provides a multi-layered listening experience. The listening doesn't end by clicking the play button; the music file is just where the experience begins. iAlbums' servers are searching the web for relevant data, and now are opening a back office suite of tools for bloggers and content providers.
Bloggers who want to be featured in iAlbums, please click here.