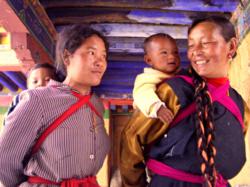 Lhasa, Tibet (PRWEB) May 02, 2012
Tibet Travel Coop launched a new website that will make it easier for travelers to connect with sustainable, locally-owned Tibetan tour agencies. The site serves as a central hub for Tibetan-owned agencies, tour guides, cooks, drivers and other travel personnel. Through the website customers can contact the Coop's marketing and sales office and arrange personalized Tibet trips.
One feature of the new website is a description of available Tibet trips, divided into three categories: spiritual journeys, cultural odysseys, and trekking adventures. The website also features a photo gallery and a blog for coop members and travelers to stay connected and share their experiences. The site contains contact information for the US-based sales team, and the Lhasa-based tour office that handles the travel operations.
Tibet Travel Coop is a unique organization that seeks to address a pervasive problem in Tibet tourism, which is that most Tibetan small-business owners and operators don't have access to or knowledge of internet marketing and promotions. This limits their ability to connect with potential western clients. In addition, much of the English-language information available on the internet regarding Tibet tours is incomplete, misleading, or confusing. The most prominent agencies listed on any Google search for Tibet tours are not owned or run by Tibetans; rather they are Chinese-run businesses that focus on pre-packaged, impersonal trips with mediocre customer service.
Tamdin Wangdu, the founder of Tibetan Travel Coop, was born and raised in Tibet, but earned a business degree from an American university. He designed the coop to be a place for tourists to find authentic Tibetan agencies and guides with local knowledge who are committed to Responsible Tourism and sustainable practice. This mutually beneficial arrangement means that business stays in the hands of the Tibetan people, and promotes the livelihood of Tibetan communities, and western travelers gain authentic knowledge of and experience with Tibetan culture and the plateau way-of-life.
Tibet Travel Coop is a collection of local Tibetan travel agencies and guides working together to promote authentic travel experiences while contributing to the sustainability of host communities and their culture.