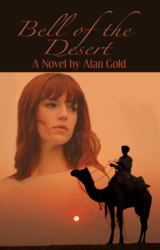 I believe the Arabs will unite under a fearless warrior—
Newport, Rhode Island (PRWEB) May 03, 2012
Cool Well Press, Inc., a publisher of Fiction and Young Adult books in a variety of genres, has released BELL OF THE DESERT, by author, Alan Gold.
The book has been released simultaneously in traditional paperback and e-book formats and is available at the publisher's website at http://www.coolwellpress.com as well as Amazon and Barnes and Noble.
Gertrude Bell, the woman who created modern Iraq after the First World War, has been written out of history. Now she's back, and she wants to put the record straight.
Gertrude Bell had a dream—to unite the thousands of tribal clans in Arabia into a single great nation. Putting her political brilliance and deep cultural knowledge of Arabia to the ultimate test, she developed a plan to do just that. But with the onset of The War to End All Wars, her success rests not only on stubborn politicians who believe a woman's true place is in the kitchen, but on the Arabic tribes setting aside their differences and fighting as one for freedom. As political bargaining and intrigue threaten to unravel her plans at the seams, Gertrude begins to doubt whether this once-great nation will ever rise to glory again…
"Some of the greatest women in history are unknown to us because men were in charge of keeping the record," says author, Alan Gold. "And some of their stories are remarkable—few more so than that of Gertrude Bell, upper-crust English spinster, passionate lover, adventurer, explorer, mountaineer, linguist, diplomat, and the woman who, more than any other, created modern day Iraq. It's been said of her that she was one of the most significant women of the 20th Century, yet she remains known only to a handful of academics and Middle East historians. That's why I wanted to draw back the covers of her life, and let the world rediscover one of the truly great characters of our time."
From the court of Queen Victoria to the deserts of the Middle East, follow Gertrude in her quest to fulfill her dream of a united Arabia, and her struggle for acknowledgement in a man's world.
About Cool Well Press
Cool Well Press offers its readers a variety of genres including fantasy, mystery, science fiction, suspense, historical, Young Adult, and non-fiction. Cool Well Press strives to bring you the best and brightest authors and stories that will touch your heart, open your mind, and keep you thinking long past The End. For more information, please visit Cool Well Press at http://www.coolwellpress.com. For the latest, follow @coolwellpress on Twitter.