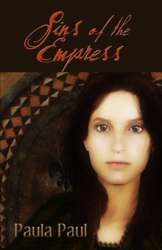 All that she did was done for love...
Newport, Rhode Island (PRWEB) May 04, 2012
The book has been released simultaneously in traditional paperback and e-book formats and is available at the publisher's website at http://www.coolwellpress.com as well as Amazon and Barnes and Noble.
Catherine the Great of Russia, a woman known for her passion, her intellect and her power, comes to life on the pages of Sins of the Empress, a sweeping epic novel by Paula Paul.
It is the story of Russia's greatest female tsar, her rise to power and how she brought a backward country to the forefront of European politics and economics.
"It's more than just a novel about European politics, though," Ms. Paul said. "It's about a flesh and blood woman who has a child taken from her, who loses a child to a deadly disease, whose husband rejects her, whose friends betray her."
Bringing to life the historical Catherine of history books was one of the challenges of writing the book, Ms. Paul says. "My novel is coming out on the heels of a non-fiction book about Catherine by Pulitzer Prize winner Robert Massie. His is an invaluable book for academicians and lovers of history, and it's one I wish I'd had when I was pouring through obscure volumes and manuscripts as I was doing my research. My novel holds a different place for the reading public, though. As a novelist I have the freedom to explore and interpret my characters' thoughts and feelings. I try to write in such a way that a reader will feel what Catherine feels when she loses a child or her husband rejects her."
Ms. Paul describes Catherine as a woman of great passion on all levels. "She was obviously a passionate lover, but she also cared deeply about her family and about her adopted homeland. Some people might call her ruthless. I prefer to call her passionate. I believe that in many ways the first line of the book sums up what Catherine was all about. That first line, spoken in her voice is All that I have ever done, I have done for love. Once that line came to me, the story almost wrote itself."
The author of a historical mystery series featuring a female physician in Victorian England also published by Cool Well Press, Ms. Paul says she particularly enjoys writing about women in history. "We can learn from the past," she said, "especially from people who weren't afraid to break the mold." She said she chose to write about Catherine the Great of Russia first out of curiosity about her. "I really didn't know much about her except for all those salacious stories about her sexuality and the many lovers she'd had," Ms. Paul said. "I knew there had to be more to her than that, though. I knew there had to be a reason she was called great, and I wanted to find out what it was. The more I learned about her, the more I realized that here was a woman with virtues and flaws that modern women as well as men could understand. All I had to do was make her come alive."
About Cool Well Press
Cool Well Press offers its readers a variety of genres including fantasy, mystery, science fiction, suspense, historical, Young Adult, and non-fiction. Cool Well Press strives to bring you the best and brightest authors and stories that will touch your heart, open your mind, and keep you thinking long past The End. For more information, please visit Cool Well Press at http://www.coolwellpress.com. For the latest, follow @coolwellpress on Twitter.