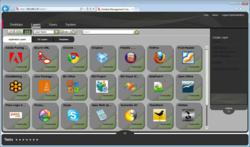 By using Unidesk and VMware View together, organizations are empowered with secure and flexible solutions that can lower total cost of ownership as they accelerate their journey to the cloud. - Vittorio Viarengo/End-User Computing, VMware
Marlborough, Mass. (PRWEB) May 02, 2012
Unidesk today announced its desktop layering software will support VMware View™ 5.1 to extend the mobility and security benefits of VMware's End-User Computing portfolio to more users while helping reduce the total cost of ownership (TCO) of Microsoft Windows® environments. Unidesk® persistent desktops sustain user-installed applications and other personalization settings for enterprises that need to give knowledge workers and power users a comprehensive "follow-me" virtual desktop experience while driving down storage costs. Unidesk's management simplicity, which enables IT administrators to quickly build custom virtual desktops out of reusable Windows gold image and application "layers," is ideal for small and mid-sized businesses (SMB) implementing VMware View 5.1 for complex use cases and diverse desktop configurations.
According to Robert MacGregor, Director of IT at Massachusetts Maritime Academy, the largest state maritime academy in the U.S., "With a small IT staff, simplicity and efficiency is everything. Unidesk layering lets us treat operating systems, applications and users as independent objects that can be quickly assembled into virtual desktops on a moment's notice." Continued MacGregor, "The secure 24X7 access our students now enjoy with desktop virtualization also makes IT operations a lot easier for us. I have an iPad, so I use the VMware View client to access any desktop I want, and I can manage my whole virtual data center through VMware vCenter™ Server from wherever I happen to be." (See today's related press release "Massachusetts Maritime Academy Takes Charge of Campus Virtual Desktops with Unidesk and VMware View" for more information.)
In addition to supporting VMware View 5.1, Unidesk is adding the ability to package VMware vShield™ as an application layer independent of the Microsoft Windows gold image, making it easy for desktop administrators to deliver VMware's antivirus and anti-malware protection solution to any number of virtual desktops. With a simple way to distribute VMware vShield and keep it up to date, enterprises will have a more efficient way to give VMware View users secure access to their own applications and data across multiple devices and locations. Unidesk is also adding the ability to package the VMware View 5.1 Agent as an independent application layer to simplify initial delivery and ongoing updates to both Windows XP and Windows 7 desktops.
"Unidesk layering technology provides SMB IT staffs with an efficient and simple way to manage a variety of applications and desktops," said Vittorio Viarengo, vice president, End-User Computing, VMware. "By using Unidesk and VMware View together, organizations are empowered with secure and flexible solutions that can lower total cost of ownership as they accelerate their journey to the cloud."
Unidesk offers storage savings equivalent to other shared image approaches. But where other shared image approaches work only with non-persistent virtual desktops, Unidesk offers the desktop persistence needed to sustain user-installed applications often required by IT and other advanced users. Unidesk also delivers department applications that are used by small groups of users. Standard and department applications can be packaged by IT administrators as Unidesk application layers in the same time required to install them once on a regular desktop -- typically less than 30 minutes. Once layered, applications can be assigned to one or more desktops without reinstallation. Desktops can be created, patched, and updated in batch or one at a time, simply by combining a single, shared Windows gold image layer with different application layers. Administrators can leverage Unidesk's integration with VMware View to add Unidesk layered desktops directly into VMware View pools. By sharing common layers across many desktops, Unidesk reduces the VDI storage footprint by as much as 70%.
"Unidesk and VMware View™ are instrumental to the success of the UConn vPC virtual computer lab, which now offers access to UConn software and resources from anywhere in the world via users' PCs, Macs, and iPads," said Jeremy Pollack, Director of IT, University of Connecticut School of Business. "Unidesk's ability to extend our VDI environment to more users -- including those that need full persistence -- while also making it easy for our administrators to provision, patch, and repair even highly customized desktops, is critical. Unidesk's integration with VMware View and its minimal use of storage make it a home run for us."
Other customers using Unidesk and VMware View for greater mobility, security, and operational efficiency include City of Foster City, Calif., Hartnell College, Massachusetts Institute of Technology, Menlo College, Mercer University (see "Mercer University Taps Unidesk and VMware View to Kick Start Borderless Classroom VDI Initiative"), Oconto County, Wis., OhioHealth (see "OhioHealth Selects Unidesk and VMware View for Physician-Friendly Application Access"), Southwestern Michigan College, State of Ohio Department of Developmental Disabilities (see "Ohio DODD Named 2012 Computerworld Honors Laureate for 1,500-Desktop VDI Project Based on Unidesk and VMware View"), State of Wisconsin Department of Children and Families, Tennessee Tech University, Tarrant Regional Water District, Tex., Tulare County, Calif., Ventura County, Calif., University of Wisconsin Oshkosh, William Woods University and Vigo County, Ind.
Unidesk will support VMware View 5.1 shortly after general availability.
About Unidesk
Unidesk Corporation (http://www.unidesk.com) enables customers to centralize more desktops on data center servers and build a stronger business case for Virtual Desktop Infrastructure (VDI). Unidesk® desktop management software for VDI is the easiest way to create, patch, personalize, and support desktops and deliver applications for organizations implementing hosted virtual desktops on VMware vSphere®. By using Unidesk's patent-pending desktop layering technology with Citrix® XenDesktop®, VMware View™ and other VDI access solutions, customers can expand VDI to more users, reduce desktop operations costs up to 30%, cut VDI storage costs up to 70%, and foster a more productive, agile workforce. Unidesk is a privately-held company with headquarters in Marlborough, Mass, USA.
Unidesk is a registered trademark of Unidesk Corporation in the United States and/or other jurisdictions. All other trademarks and registered trademarks are property of their respective owners.