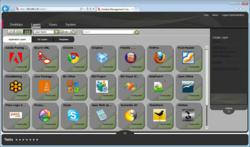 Unidesk layering lets us treat operating systems, applications and user desktops as independent objects that can be quickly assembled on a moment's notice.
Marlborough, Mass. (PRWEB) May 02, 2012
Massachusetts Maritime Academy, the largest state maritime academy in the U.S., is implementing Unidesk® desktop layering software to efficiently provision, update, and manage desktops and applications for its new Virtual Desktop Infrastructure (VDI) deployment. Unidesk was launched last year together with VMware View™ desktop virtualization software as part of a pilot program to provide students with secure, mobile access to required applications from campus common areas. The virtual desktops are now expanding to include faculty and staff, which will make it easier for the IT department to maintain state-of-the-art desktops with the latest software, improve end user support, and reduce energy in support of campus green energy initiatives.
The virtual desktops – which include a mix of kiosk-style desktops shared by students in common areas, as well as personal desktops that are fully customizable and that sustain each user's personal settings and user-installed applications -- are hosted on the Cisco Unified Computing System™ (UCS), deployed on VMware vSphere™ virtualization infrastructure, and accessed through Wyse thin clients. The VDI solution was delivered by Presidio®, a leading Unidesk, Cisco, and VMware solution provider.
Mass Maritime Academy IT administrators say they can now package and deliver high-performance engineering applications such as AutoCAD, SolidWorks 3D modeling, and GIS programs in far less time than physical PCs because "layering" these applications with Unidesk is easy, does not require complex skills, and never requires reinstallation or troubleshooting.
According to Robert MacGregor, Director of IT at Mass Maritime Academy, "With a small IT staff, simplicity and efficiency is everything. Unidesk layering lets us treat operating systems, applications and user desktops as independent objects that can be quickly assembled on a moment's notice." MacGregor recently migrated the academy's computer-aided design software from AutoCAD to Dassault Systemes Draftsight. "I layered Draftsight by running its setup procedure, swapped out AutoCAD for Draftsight on the few desktops I wanted to test it on, rebooted the desktops and I was done," MacGregor said.
Customization and Control
Mass Maritime has found virtual desktop customization and control are both easily achieved with Unidesk. Standard and departmental applications can be packaged for central delivery to one or more desktops in a matter of minutes. Desktops can be configured to sustain all customizations – including user-installed applications – or discard them after each use. With all applications layered separately, one Microsoft Windows 7 gold image can be used for all desktops. Once Mass Maritime assigns new application layers or makes patches to existing application layers or the gold image layer, the desktops are rebuilt from the fresh IT layers and each desktop's personalization layer.
For greater control, group policies can be set to prevent students from downloading applications or making changes to the desktops, effectively making them non-persistent when required. "We made all our desktops persistent because Unidesk gives us the same storage capacity savings as non-persistent desktops and cloning technology, so we're still able to keep our storage use down, even on the most feature-rich desktops for our power users," MacGregor says.
Performance, Mobility, and Green Benefits
The academy says feedback from student users has been extremely positive, especially when using SolidWorks modeling and GIS applications, where performance improvements have been noteworthy. The academy anticipates that VMware View with the PCoIP protocol will also improve the user experience for faculty and staff, especially those previously on older PCs and laptops, while retaining the look and feel of their own desktops. Successful end user acceptance is common with Unidesk-managed VDI because, unlike "locked down" desktops, Unidesk layered desktops can preserve all user profile configurations, user-installed applications, security settings, and other customizations, giving every user a "My PC" experience.
The academy's IT administrators are finding that the increased mobility offered by VDI also assists them in their jobs. "The secure 24X7 access our students now enjoy with desktop virtualization also makes IT operations a lot easier for us," says MacGregor. I have an iPad, so I use the VMware View client to access any desktop I want, and I can manage my whole virtual data center through VMware vCenter from wherever I happen to be. From the iPad, I can also browse to every other management tool I need, including the Unidesk Management Console to manage my desktops."
Unidesk and VMware View also help support Mass Maritime Academy's green initiatives by enabling the campus to replace more PCs with energy-efficient thin or zero clients that use as little as 6.5 watts when in use, and as little as .2 watts when idle.
Webinar: VDI Success on Campus
Managing desktop computers on campus is a huge challenge for many colleges and universities. To help their peers learn from their experiences, Massachusetts Maritime Academy and the University of Connecticut will discuss their successful VDI strategies, including key business drivers, justification rationale, technology choices, and implementation results, in an upcoming webinar moderated by Linda Briggs, Contributing Editor, Campus Technology. The featured presenters for the May 2, 2012 11:00 am PT event will be:

Robert MacGregor, Director of IT, Mass Maritime Academy
Jeremy Pollack, Director of IT, University of Connecticut
Tom Rose, Vice President Products, Unidesk
Register at: http://www.unidesk.com/campustech
About Unidesk
Unidesk Corporation (http://www.unidesk.com) enables customers to centralize more desktops on data center servers and build a stronger business case for Virtual Desktop Infrastructure (VDI). Unidesk® desktop management software for VDI is the easiest way to create, patch, personalize, and support desktops and deliver applications for organizations implementing hosted virtual desktops on VMware vSphere®. By using Unidesk's patent-pending desktop layering technology with Citrix® XenDesktop®, VMware View™ and other VDI access solutions, customers can expand VDI to more users, reduce desktop operations costs up to 30%, cut VDI storage costs up to 70%, and foster a more productive, agile workforce. Unidesk is a privately-held company with headquarters in Marlborough, Mass, USA.
About Massachusetts Maritime Academy
Located on Cape Cod, Massachusetts, the mission of Massachusetts Maritime Academy is to graduate educated men and women to serve the maritime industry as licensed officers or to serve the transportation, engineering, environmental, and industrial interests of the Commonwealth and the United States. The Academy believes in learning through application and requires students to spend a portion of their academic program at sea or in internships or cooperatives. The Academy supports national defense by commissioning officers in the U.S. Merchant Marine and the U.S. Armed Forces after graduation.
Unidesk is a registered trademark of Unidesk Corporation in the United States and/or other jurisdictions. All other trademarks and registered trademarks are property of their respective owners.