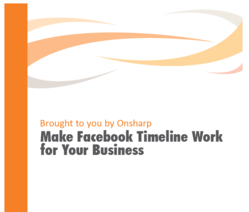 We do need to comply with these rules because Facebook can disable your account. That can be devastating for a business depending on their social media plan
Fargo, North Dakota (PRWEB) May 02, 2012
Since Facebook has released Timeline, users have been debating the positives and negatives of the new layout. Onsharp has developed a free guide to maximize the benefits of Timeline for business pages with a downloadable Ebook, "Make Facebook Timeline Work For Your Business".
Facebook Timeline comes with many new features including a more informational "About Us" section, a visually enticing cover photo, and the opportunity to highlight posts. Onsharp's new Ebook takes readers through the changes, while teaching how to best implement these changes to create an attractive, user-friendly page.
Businesses must be careful, however. The new business pages follow a strict set of guidelines set by Facebook. If these rules are not followed, Facebook has the right to shut down a business's page. The Ebook also goes through these guidelines. "We do need to comply with these rules because Facebook can disable your account," said John Jorgenson, Online Marketing Developer. "That can be devastating for a business depending on their social media plan."
Visit our website to download "Make Facebook Timeline Work For Your Business". This book can help to amp up your business's Facebook account. "Online marketing using social media such as Facebook, is a huge part of today's marketing strategy, and you don't want to get left behind," said Tami Dowers, Marketing and Public Relations Director.
Onsharp is an interactive agency that architects, builds, and supports web-based solutions. We're passionate about technology, but not just because we think it's cool. We are experts at helping businesses understand how new technologies and trends can help them meet customer demand while improving productivity. Onsharp strives to create success in the lives of all people, businesses, and communities they serve. For more information about Onsharp, please visit http://www.onsharp.com or call toll-free at 1.866.ONSHARP.