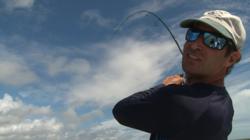 Our goal is to have fun, find the fish and enjoy the local food, culture and other compelling aspects of our destinations.
-Doug Slater, host, Fishin' Impossible
New York, NY (PRWEB) May 04, 2012
Fishin' Impossible, a new breed of fishing show, makes its North American premiere May 5, 2012 on the World Fishing Network (WFN). The fast-paced, lighthearted television show bridges the gap between fishing, conservation, travel and cooking. Shot entirely in HD, the show contains captivating film work, original music and compelling storytelling. Already in more than 47 countries on ESPN International, Fishin' Impossible is poised to make a big splash in the US and Canada.
Fishin' Impossible debuts at 5 p.m. EST on May 5 on the World Fishing Network (WFN). The cast and crew will be celebrating their North American debut, as well as Cinco de Mayo, at Finz Bar and Grill in Mount Pleasant, SC. After its May 5th premiere, the show can be seen weekly on Saturdays at 5pm and Sundays at 1 a.m. and 9 a.m. EST.
Host Doug Slater is a licensed captain whose love for fishing and adventure has taken him around the world. Co-host Kurt Feldhun is an award winning filmmaker and lifelong fisherman whose work has appeared on the Oprah Winfrey Show and MTV. Slater and Feldhun have been friends since childhood and fishing buddies for more than 20 years. Along for the ride is Jerri, a Chesapeake Bay Retriever, whose love for fishing and life on the water rivals that of any of her human companions.
Shot in close proximity to Charleston, South Carolina, episode one finds Slater and Feldhun fishing for Redfish in the South Carolina "low country" with legendary Captain Champ Smith. They hope to catch one slot fish for the table as well as put Feldhun on his very first Redfish. Along the way, they encounter endless oyster beds, mullet explosions and dolphins foraging in two feet of water. After a successful day out on the water, Slater and Feldhun head to Finz Bar and Grill where owner Chad Shores prepares the days catch in true low country fashion.
Fishin' Impossible thanks its sponsors Regulator Marine, "The Finest in Offshore Sportfishing Boats," as well as Revo Sunglasses and their new water lens technology and Wrangler Rugged Wear.
In its first season, Fishin' Impossible has already set out lines in Key West Florida, Grand Bahama, Charleston South Carolina, Atlantic Beach North Carolina, Islamorada Florida, Norwalk Connecticut and West Palm Beach Florida. Upcoming shoots are planned in Colorado, Alaska and on both the East and West coasts.
About Fishin' Impossible:
Fishin' Impossible is produced entirely by Flying Gaff Productions, a full service media company that specializes in high-end resort and lifestyle videos. Spearheaded by award-winning director and editor Kurt Feldhun and producer Doug Slater, Flying Gaff differentiates itself by having an un-unyielding and relentless drive for creativity and quality. Flying Gaff prides itself on being able to "think outside the box" and continually deliver a cutting edge and exhilarating product.
For more information about sponsorship and advertising opportunities, or hosting Fishin' Impossible, please go to http://www.fishinimpossible.com.
About The World Fishing Network: WFN is the only 24/7 television network dedicated to all segments of fishing with programming that covers instruction, tips, tournaments, travel, food, boating, outdoor lifestyle and more. Originally launched in December 2005, today WFN and WFN HD are available in more than 20 million households through North American cable, satellite and telecommunications distributors. In the U.S., distributors include Verizon FiOS, Dish Network, Comcast, AT&T U-Verse, GVTC
For press inquiries, please contact Jennifer Hobson
jennifer(at)jlhmedia(dot)com
505 603 8643