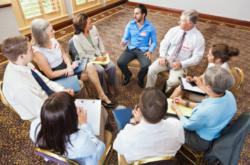 For the first time, caregivers can come out of isolation by joining a live online support group and actually listen in or speak with one another.
(PRWEB) May 02, 2012
eCareDiary.com, the award-winning website for family caregivers, will broadcast the first live online support group "Caregivers Speak!" Created by and for caregivers, Caregivers Speak!, will debut on Tuesday, May 8th at 2:00pm EST on BlogTalkRadio.com. Hosted by Margery Pabst, eCareDiary's caregiving expert and co-author of "Enrich Your Caregiving Journey," it will continue to air live on the 2nd Tuesday of every month.
Three experienced caregivers are invited on the program to share their perspectives and strategies that have helped them overcome a particular challenge. Host Margery Pabst presents a new challenge each month ranging from coping with guilt to more controversial issues such as dating when a spouse is lost to Alzheimer's. The audience listens in either on the Caregivers Speak! channel on BlogTalkRadio or by calling in on (347) 857-3399.
The caregivers on the panel represent a wide variety of situations, types of illnesses that they have dealt with, cultural backgrounds, and roles. A 30 minute program, listeners are then invited to participate during the last 10 minutes with questions or comments.
Each live program will be recorded and available for download on eCareDiary's website for those who missed it and wish to listen to it later. Caregivers Speak! is a safe online support group for new and seasoned caregivers alike to share their experience and support.
According to eCareDiary Co-founder, Susan Baida, "For the first time, caregivers can come out of isolation by joining a live online support group and actually listen in or speak with one another."
About Margery Pabst and PivotalCrossings.com
Margery is an author, speaker, and facilitator. Her work focuses on personal resiliency and balance while caring for others. "Enrich Your Caregiving Journey" was born from personal experience and provides tips and tools for both family and professional caregivers. Margery Pabst writes for eCareDiary.com and is the host of "Caregiver and Physician Conversations", another groundbreaking BlogTalkRadio show sponsored by eCareDiary.com. Access Margery's website at http://www.pivotalcrossings.com where you will find her archived blogs and radio shows.
About eCareDiary.com
eCareDiary.com is a leading online community for caregivers of aging loved ones providing the content, tools and resources to help them manage care. The Care Diary is its free signature e-tool to help caregivers manage appointments and medications, store and share their loved one's information in a secure, private place. eCareDiary has been featured in The New York Times, The Wall Street Journal and won the 2010 New Product & Technology Silver Award by the Mature Market Resource Center. AARP listed eCareDiary as one of the '11 Technologies You'll Want Now" alongside Google and Skype.